Site Sponsor
Site Sponsor
Joined

Jul 9, 2014
Messages

2,071
Reaction score

1,024
TTE525R+ Performance Upgrade Turbocharger
VW GOLF R & GTI MK 7 / AUDI S1 / AUDI TTS / AUDI S3 8V / AUDI Q S3 / LEON CUPRA & SC 5F / SKODA OCTAVIA vRS 5E / SKODA SUPERB SPORTLINE
TTE525R+ is our latest hybrid performance upgrade turbocharger for the new generation VAG 2.0TSI following on from our proven TTE470 upgrade stage. Stage 3 power with fast spool and response.
Engineered & Enhanced
To construct a TTE525R+ we change the original compressor and employ a far larger and more efficient billet wheel with extended tip technology and mill the compressor cover to optimum gap to match the new compressor profile. We replace the original IS38 turbine and shaft and CNC mill the turbine housing and install a larger turbine for greater gas flow. We CNC modify original compressor cover, for increased airflow. We replace the original recirculation solenoid valve with a Motorsport
atmospheric blow-off valve
that's included in the price.
We also fit our TTE CNC silencer delete. Modifying the turbo discharge silencer, removing the original baffle internals and fitting a new straight through section, removing any restriction and its function as a noise cancelling device, and so improving the flow, giving less surge and enhancing the sound.
Equilibrium
Precisely balancing our turbochargers is a key critical factor to become a TTE upgrade unit as longevity and performance are paramount. Good balance improves acoustics also. Subsequent great care is taken with all TTE turbochargers to achieving our balance standards. Firstly parts are balanced at slow speeds up to 2800RPM in multiple planes using our single parts machine, then components are assembled and then the CHRA are dynamically balanced, but this time depending on application at up to 250,000 RPM in multiple planes using our in-house VSR machine to acquire the ultimate equilibrium, to a standard far higher than OEM. Each turbocharger is supplied with serial numbered balance test result document.
Key Points
TTE Oversize Latest billet compressor geometry
TTE Oversize turbine/shaft
TTE Upgrade bearing pack

TTE Oversize turbo intake
TTE CNC Optimised modified silencer discharge delete
LEYO Motorsport BOV ( inc. 3 spring rates for fine tuning)
Genuine IHI CNC modified housings
Genuine VW Electronic actuator
Optimized clearances
Plug and Play installation
We offer brand new or we also can offer to recondition and upgrade your used turbocharger
Single parts finely balanced then components assembled and core high-speed VSR balanced, supplied with a balance test result document
550PS Capable
Designed, Machined & Built by TTE in Germany
Brand new Price is 2982.35 Euro NET
Reconditioned and upgraded used Price is 2100.00 Euro NET (from a used IS38 type turbo)
Shipping does vary but 45.00 euro is a good guide for Europe-wide.
(For customers in EU countries 19%+ VAT Must be added to prices above unless having a valid VAT ID)
Reconditioning price shown is based on overhauling and reconditioning, upgrading an undamaged used as new turbocharger within specification. Only once cleaned and dismantled, inspected then a firm price be made.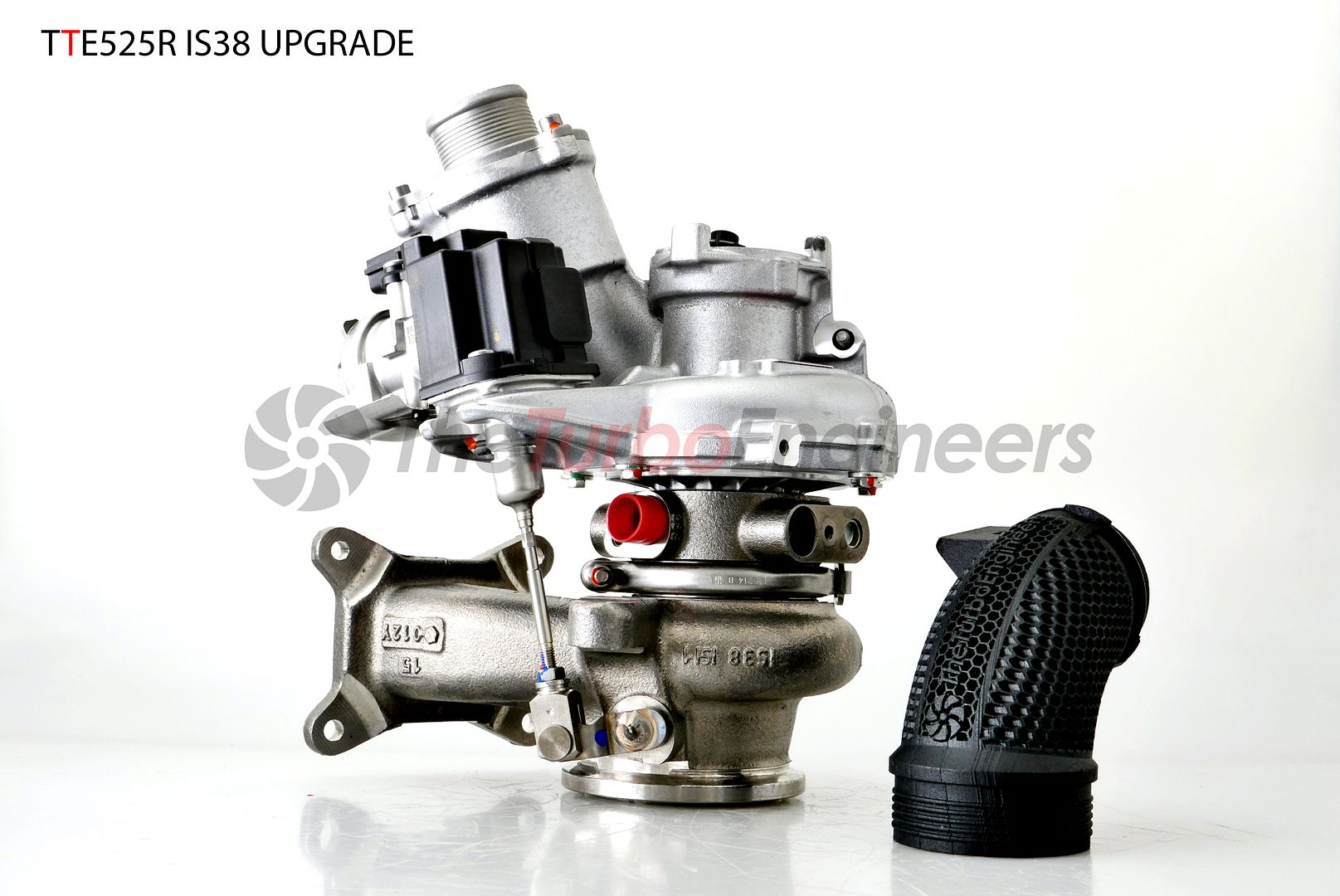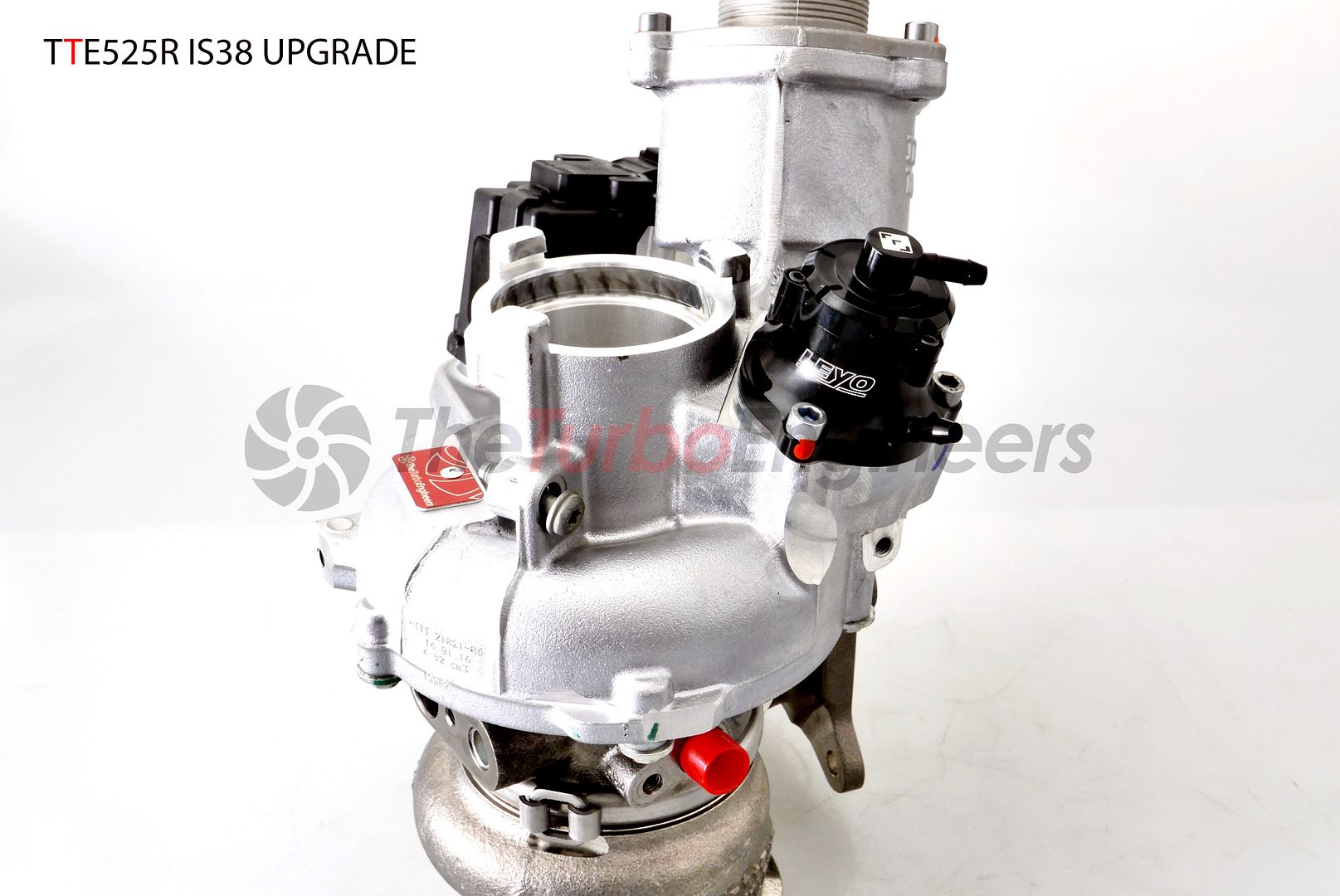 ⛔️⛔️⛔️⛔️DIVERTER DELETE⛔️⛔️⛔️⛔️⛔️
Want to point out to guys that you must not replace the LEYO BOV valve supplied with a TTE525R. The TTE525R is designed only to work correctly with a valve that vents to atmosphere.
Replacing with an original recirculating diverter valve is highly not recommended.
A recirculating valve, stock or aftermarket cannot function at all on a TTE525R due to turbo design changes made by TTE.
TTE delete the diverter port in the compressor cover to give smooth air path for performance advantages. No turbulence, Faster Spool & Engine Response, More Power.
Tip: Red spring supplied with your LEYO valve can help improve torque and power especially in the mid RPM range on certain set-ups. Worth asking or informing your tuner to test
Please see picture below of original and TTE modified compressor housing/diverter port delete