I thought it was about time I got some pics up of the new chariot. My last car, my much loved ED30, had the full stage 2+ treatment (full TBE, Autotech HPFP, Milltek TBE, Carbonio, Custom Code Stage 2+ map) The car was running around 330BHP, it was a monster

I decided to sell earlier this year for a number of reasons, but the main being the amount I was spending on fuel. £120 a week in loopy juice was really hurting my pocket, she had to go and a diesel was on the cards. Looking at it now I could have kept her, a change of job etc. helped the situation I was in a lot, but hey ho. Next year will bring something special to the garage

Here is a pic of her

The car was eventually sold (after 6 months of advertisement) to s friend of mine. He is taking good care of her, I see it from time to time which does not do anything for my pocket. Every time I see it I want another

So what to get next. I had looked at various cars, Golf MKV diesel's, BMW 320d coupe's and A3 S Line's etc. I ruled the golf out as I had already had three and the Beemer was just too boring . I went to look at a few A3's and was really starting to like them. However every one that I went to look turned out to be dogs, it was starting to get tireless.
Then I came up on a red A3 S-Line Quattro on Pistonheads. It was fully loaded, Xenons, full leather, Bose sound system, just about every option on the list had been ticked bar sat nav. I went to look at the car in Wolverhampton and it turned out to be mint. After mulling over it on the way back I decided I would take my time and see if anything else came up. I got back home and had another look on Pistonheads and came across a grey one of almost identical spec, that was in Bolton a lot closer to home. So the next day I went to look at that one, what a dog that turned out to be! I decided that the red one was the way to go, it really was in top condition. I immediately called the garage and did the deal over the phone

Two days later I was on the way to Wolverhampton pick her up. All the paperwork was sorted out and I was on the way back home in no time. I immediately knew I had made the right decision, it really was a lovely car to drive. Everything felt very solid and grown up. I was not so sure on the red but it started to grow on me quickly. This is a pic of an identical car when I got it (can't find any standard pics of mine)
I originally planned just to put a new set of wheels on but as always with me I can't leave anything alone. After scouring the classifieds I cam across a nice shiny set of 19' BBS Ch's. I got on the blower and in no time I was on the way up to Hull to pick a new set of wheels up

This is a pic of them of how they were:
I got them on the car but soon realised I wanted them refurbed and painted in black or anthracite. I was gonna go with a black and red them with the car, I think the two colours go really well together. After a quick chat with Gerry at WRC Wheel Repairs a finish was decided. Gloss black centres with a polished machined lip. Here is how they came out: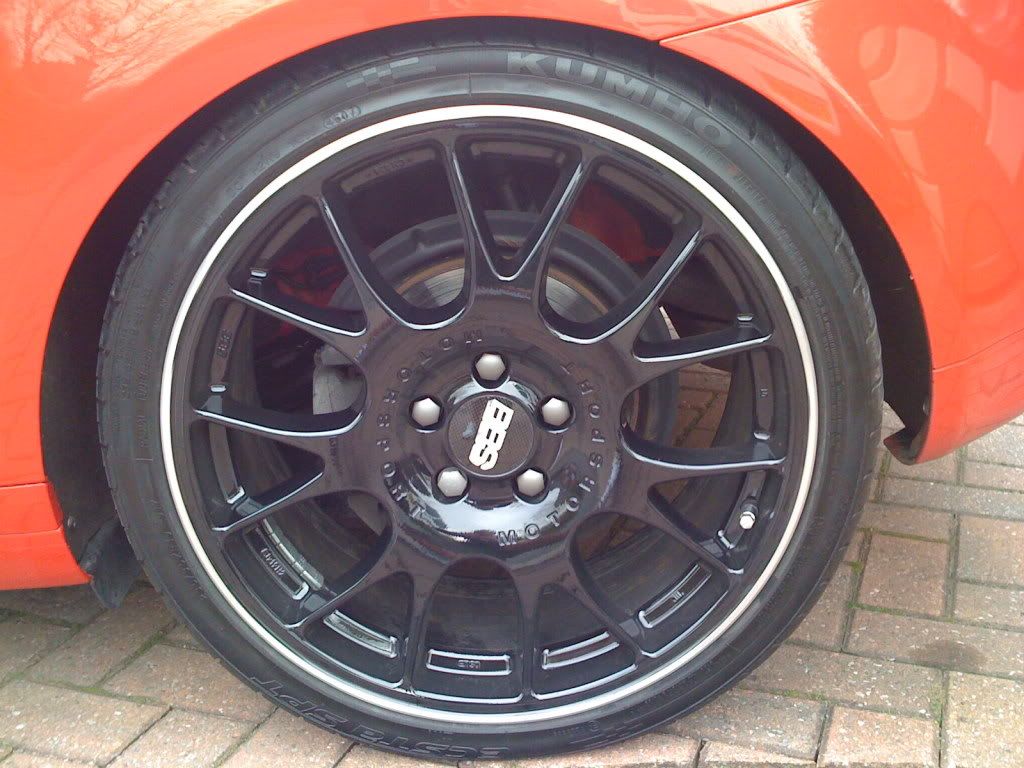 I wanted to adress the front of the car next as I thought it looked a bit bland, I wanted to toughen it up a bit. Here is how it did look:
After trawling the internet looking at various options I decided on a Black Optics grill, Cupra R splitter and some Lamin-X to darken the headlights and fog lights. Here is how it came out

Next up was the rear lights, the 2009 A3 rear lights had been changed a little and I decided I wanted some. Here is a pic with the new ones on:
That is preety much it for now, the car is going in to Awesome in Manchester for some coilovers on Friday, gonna get it as low as I possibly can

After that S3 side skirts and rear diffuser are going on along with a custom exhaust system. I will post pics in due course. Here are a couple of pics of the car how it currently looks now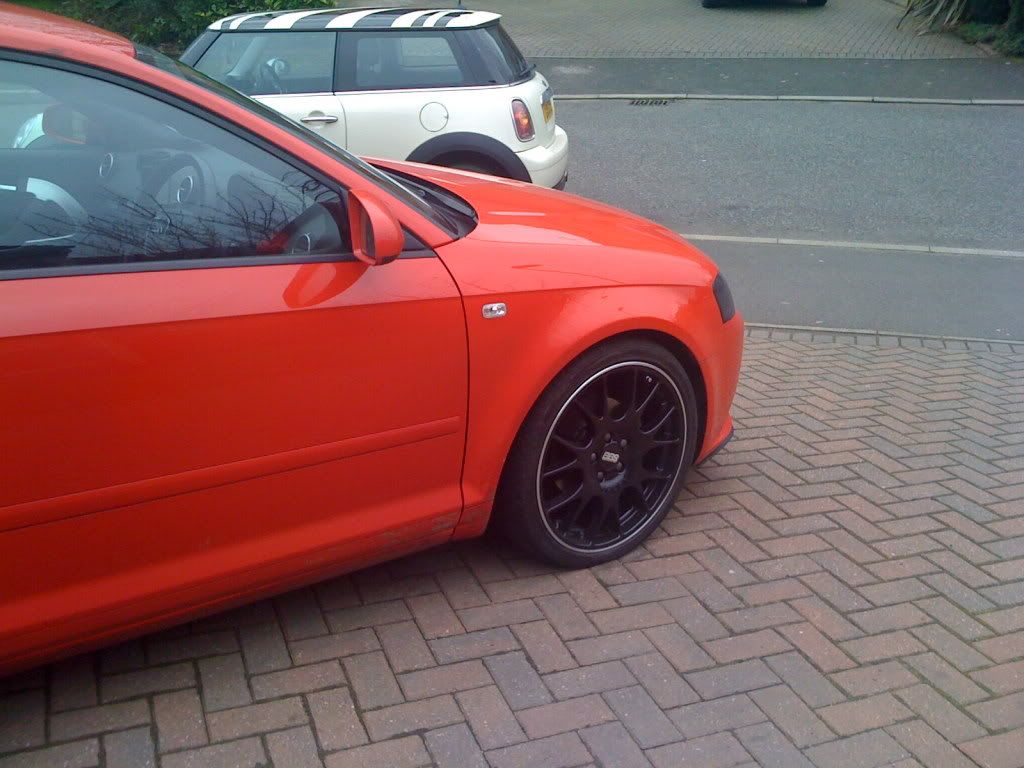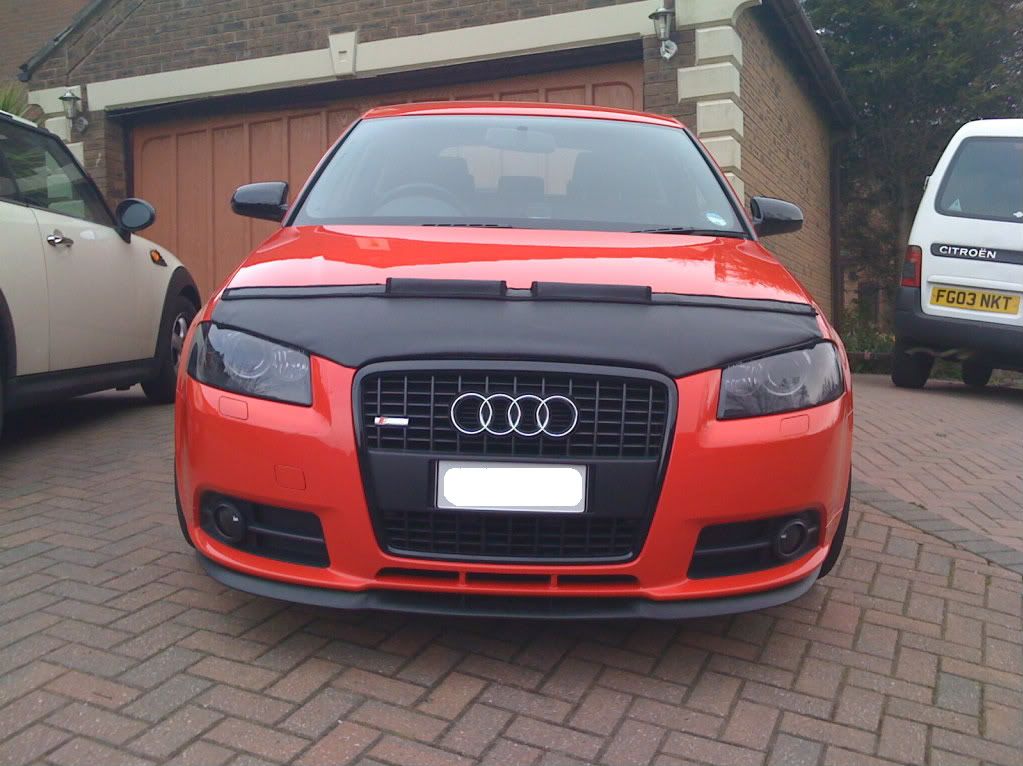 In the pic above you can see that I have had the mirrors finished in gloss black which finishes off the front end. I know the photos are useless but the only camera I own is on my phone. Please let me know your honest opinions and any ideas that you may have that will spruce it up a bit.
Thanks, Tom