Site Sponsor
Site Sponsor
TTE850+ Performance Upgrade Turbochargers RS6 C6 V10
The RS6 C6 with its 5.0 V10 Bi-Turbo engine and 580 PS is the most powerful Audi series production engine to date. Our TTE850+ turbochargers will push the V10 to beyond 850PS with ease. Some tuners like KSF Motorsport and MRC Tuning have seen results at over 1000PS+ making these hybrid RS6 upgrade turbochargers the biggest maybe available anywhere, yet still totally Plug & Play. Power level reserved only for true hyper cars and still remaining perfect for driving to go get your family shopping, not loosing any drivability.
Engineered & Enhanced
The formula to making a TTE850+ starts with a much larger forged milled billet compressor wheel, chosen because is highly efficient, new generation type with ultra thin blades, creating extremely high flow for comparative size, giving a compressor map that's very wide. TTE850+ Yield a maximum air flow rate of 615litres a second Vs stock of 500 (estimated). The intake pipes included with this upgrade has been CNC milled and hand finished to match and smooth the transition to the larger compressor inlet opening to lower turbulence and maximize velocity.
We also give the stock turbines a special curved clip, a grinding process to the turbine blade tips, curved to alleviate stress from process and clipping the length reduces blade area, thus increasing gas flow and so reducing back pressure, lowering exhaust gas temperatures, allowing safer higher boost level's. This process also gives a secondary advantage of removing some material, lightening the turbine thus reducing rotational mass improving moment of inertia. Dyno's have shown little to no loss in response vs stock yet huge gains in power and torque.
Actuators used are uprated sprung OE units fitted with our reinforced clamps for trouble free operation. These also can also be modified/set to customer needs and specifications.

Equilibrium

Precisely balancing our turbochargers is a key critical factor to become a TTE upgrade unit as longevity and performance are paramount. Good balance improves acoustics also. Subsequent great care is taken with all TTE turbochargers to achieving our balance standards. Firstly parts are balanced at slow speeds up to 2800RPM in multiple planes using our single parts machine, then components are assembled and then the CHRA are dynamically balanced, but this time depending on application at up to 250,000 RPM in multiple planes using our in house VSR machine to acquire the ultimate equilibrium, to a standard far higher than OEM. Each turbocharger is supplied with serial numbered balance test result document.
Key Points
Genuine IHI Housings & Components
CNC Optimized Intake Pipes included
Highly Efficient Next Gen Billet Compressor Geometry
Optimized Compressor Cover Machining Clearances
Special Curved Clipped Turbines
Genuine IHI Uprated & Reinforced Synchronized actuators
Dynamically Balanced & Supplied with test result documents
Fitment As Original. Plug & Play
850+ PS Capable
Designed, Machined & Built by TTE in Germany
NEW PRODUCT NOW AVALIBLE :
WWW.TTEGLOBAL.COM
Reconditioning price shown is based on overhauling and reconditioning, upgrading used turbochargers within specification.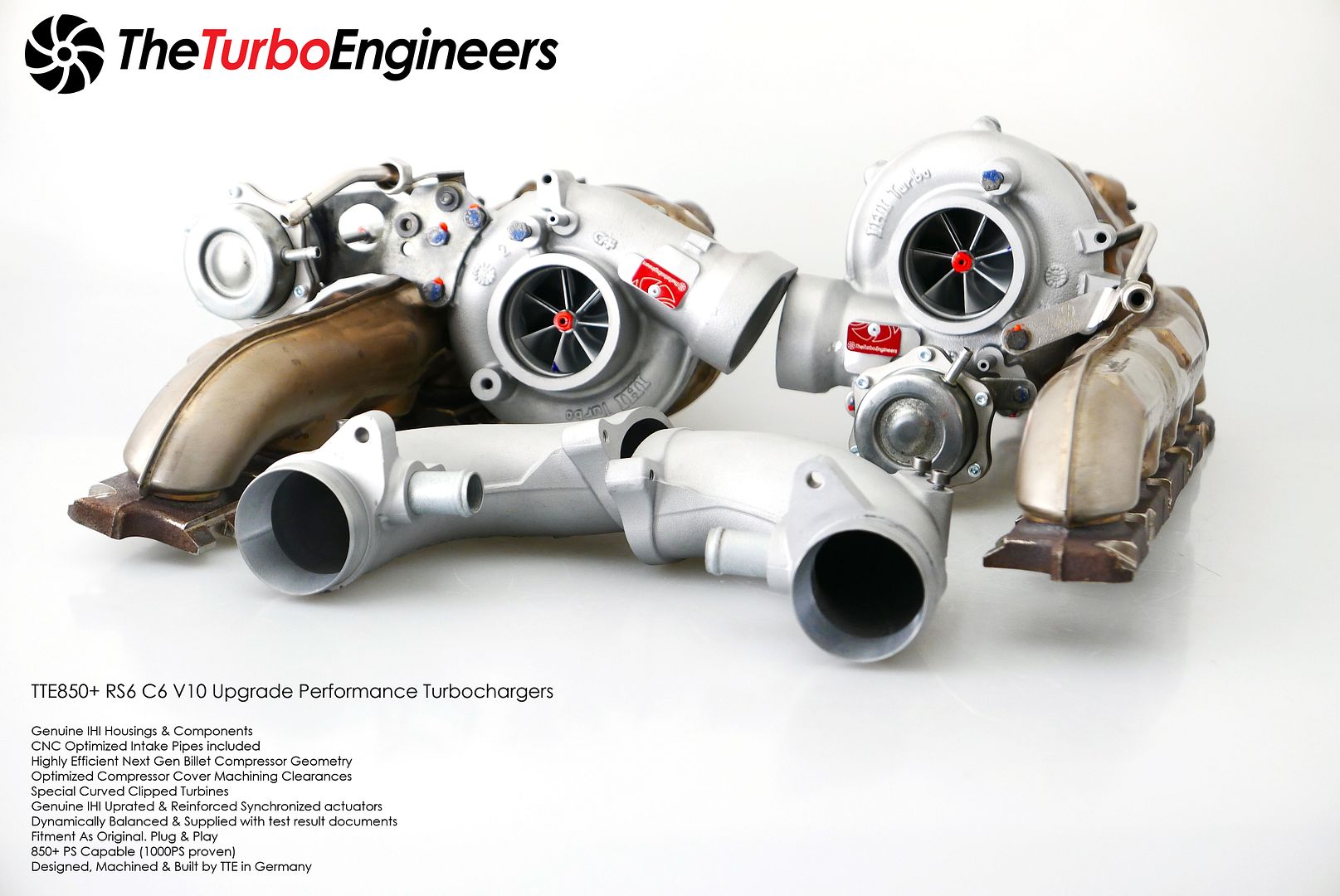 Picture are of Reconditioned and upgraded units.