Site Sponsor
Site Sponsor
Joined

Jul 9, 2014
Messages

2,071
Reaction score

1,024
TTE625 Upgrade Performance Turbocharger 2.5 TFSI TTRS 8j / RS3 8p, 8v
Introducing our TTE625 performance turbocharger based on the original 8S turbocharger to new higher output specification. Offering an upgrade to over 600PS. Developed on our own RS3 during 2016
Engineered & Enhanced
At the core of our TTE625 is a much larger TTE compressor wheel, chosen because it is highly efficient and creates an extremely high flow for comparative size. Re-Profiled compressor cover to optimised tolerance to ensure maximum compressor efficiency is given.
We CNC mill the exhaust turbine housing to accept a larger turbine and shaft.
Special profile 360 deg high-performance motorsport journal bearing is fitted, to remain durable at higher loads with no loss in transient response. The
actuator
used is sprung OE unit
Equilibrium
Precisely balancing our turbochargers is a key critical factor to become a TTE upgrade unit as longevity and performance are paramount. Good balance improves acoustics also. Subsequent great care is taken with all TTE turbochargers to achieving our balance standards. Firstly parts are balanced at slow speeds up to 2800RPM in multiple planes using our single parts machine, then components are assembled and then the CHRA are dynamically balanced, but this time depending on the application at up to 250,000 RPM in multiple planes using our in-house VSR machine to acquire the ultimate equilibrium, to a standard far higher than OEM. Each turbocharger is supplied with a serial numbered balance test result document.
Product Highlights:
Original BorgWarner turbocharger as base part
TTE Billet Highly efficient compressor geometry
TTE 9 Blade high-flow Low-mass turbine
Genuine BorgWarner Uprated & reinforced actuator
Genuine BorgWarner Reinforced motorsport bearing system
Thermally shielded exhaust manifold and housing
CNC Optimized and hand finished Intake pipe
CNC Optimized Compressor Cover Machining Clearances
CNC Port Matched Exhaust Manifold Runners
Over 600PS Capable
Single parts finely balanced then components assembled and core high-speed VSR balanced
Supplied with a balance test result document
Proven TheTurboEngineers quality
Made in Germany
Pricing : Now Discontuined for the even better TTE700 & TTE777 see here :
https://tteglobal.com/audi/rs3/8v.1-2.5-tfsi/
Turbocharger requires specific components for fitting: Downpipe, Boost pipe, Intake pipe, Oil & Water lines
For Left-hand drive cars : Fitting kits & complete turnkey solutions available at
Sar- Turbotechnik
For Right-hand drive cars : Fitting kits and complete turnkey solutions available at
CM Tuning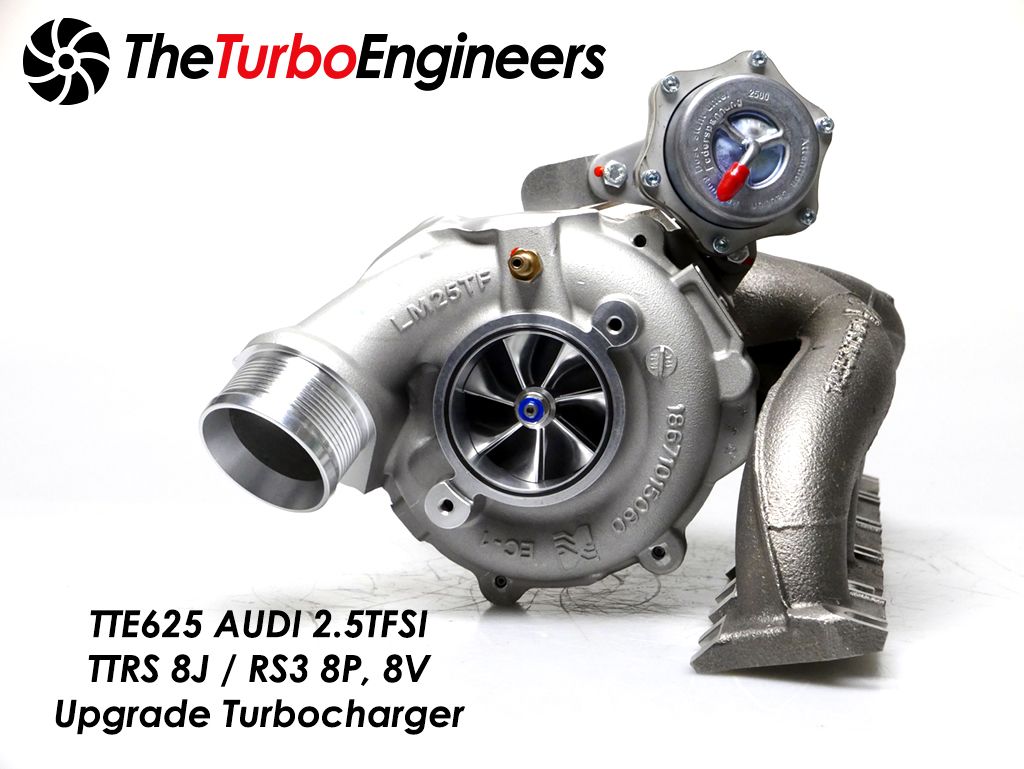 UPDATED NOW HAS THERMALLY SHIELDED TURBINE HOUSING AND EXHAUST MANIFOLD INCLUDED!