Hi everyone,
If you remember a while ago I posted that my brand new S3 had got swirl marks. See this thread…
http://www.audi-sport.net/vb/showthread.php?t=39654
Following this thread, I contacted Clark from Polished Bliss regarding a Paint Correction Detail. Due to where Polished Bliss is located and its distance from where I live, Clark recommended I contact a local Professional Detailer, whom he trusted. He recommended Matt Wakefield at Off Your Marks Detailing
www.offyourmarks.com
.
I contacted Matt not long afterwards at the back-end of May. Matt inspected the car and quoted me for paint correction. It was a pleasure to meet Matt, we got on straight away and shared the same passion for cars. He also came across as a perfectionist and a genuinely honest bloke.
Due to selling our house, living in temporary accommodation, finding a new house, moving in, going away to Mauritius to get married in August etc. etc. it was far too busy for me to book the car in....until last week. I contacted Matt a couple of weeks ago, and due to a cancellation he managed to fit me in on the 1st & 2nd of October.
Matt is based quite centrally in the North West, not far from Warrington. Although Matt will perform detailing at your home or even is home, he prefers to do his work in his well equipped Unit in the Bootle area of Liverpool.
Until two weeks ago, it had played on my mind about how would I get my car to Liverpool, and then continue on to work, which is in Knutsford, Cheshire, about an hour away. However, when I spoke to Matt, I was pleased to find out that he now provides a courtesy car!!! No worries now then, so I booked my car in immediately.
Below is quite a long write-up about the Paint Correction Detail that Matt performed on my Phantom Black S3.
I would just like to thank Clark for allowing me to post this.
The Paint Correction Detail
The first step in the process that Matt followed was to ensure that my car was washed thoroughly. This was done initially using a pre rinse of citrus degreaser and a warm light pressure wash. The car was left to dwell and the rinsed clear again using warm (45deg) water. This ensured the removal of loose dirt and a breakdown of the waxes and other products on the car.
Here's a pic my car waiting its wash.
After the pre wash, next came the wheels.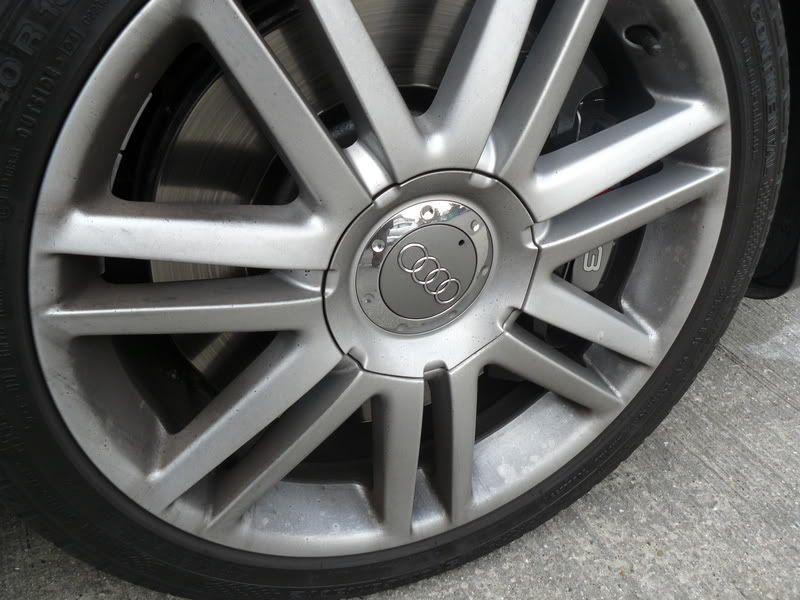 The wheels were treated using Zymol Natural wheel gel.
Following the wheels, they were rinsed again using warm water only, ensuring any gel cling was eliminated.
The next step, Matt washed the car with the familiar two bucket format, both shod with grit guards, Zymol autowash and a Natural sea sponge. Matt prefers the sea sponge over the mitt due to the added absorbency, soft pile and low pressure imparted during the wash. Matt pays around £30.00 per sponge.
Following the washing, the car was again rinsed using warm water. The car was then cleansed using Zymol Lehm Clay to remove any embedded particles and contaminants.
Following the clay, the car was again washed and rinsed with filtered water
Once the wash and cleansing was done the car was brought inside to be dried. Matt used a leaf blower to dry the car quickly without touch or streaking. I was impressed at this method of drying the car. I'd never thought of blow-drying the car - not sure what the neighbours will think if I try this at home!
After the car was dry Matt visually inspected the paint to see the light swirling that had concerned me. It was very very fine swirling giving the panels a greying effect. This is shown to some effect in the shot below, however it looked worse in the flesh.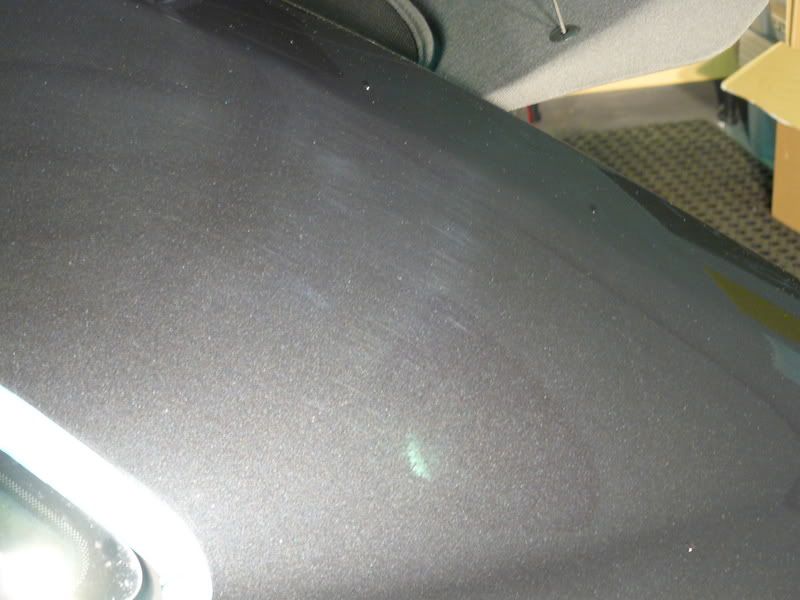 After the visual inspection the paint was assessed using two paint gauges, one for composites and the other for steels. The readings uploaded onto a laptop to gain a minds image of the overall paint quality.
The car was then taped up to protect certain vulnerable areas ready for the paint correction process.
I asked Matt what he had used in this stage, he used initially Menzerna Final finish on a sonus white pad mixed with another polish from a plain bottle ( a new product aid he is trialling) and then refined the finish further using 3M Ultrafina on a blue 3M waffle pad.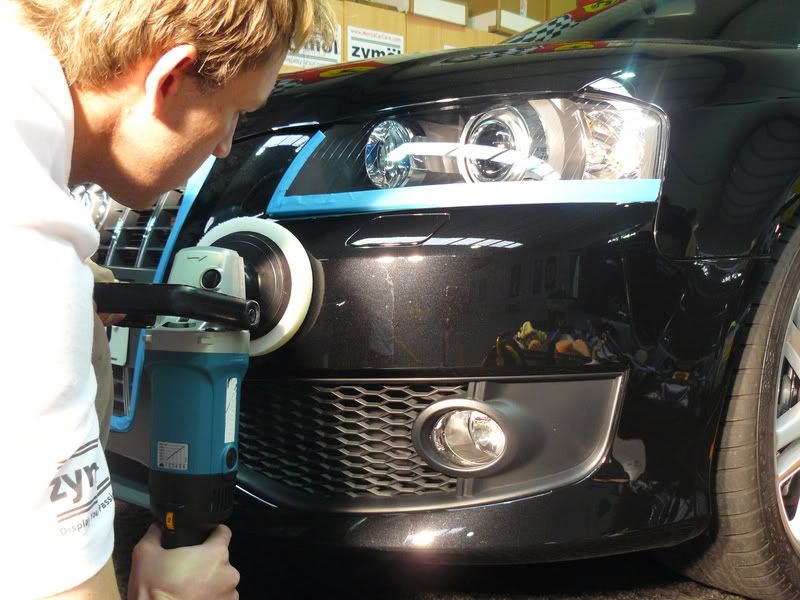 Following the corrective work Matt then wiped down the car with a diluted IPA solution an inspected the car again with his 'sun gun' for any remaining defects.
Following the inspection then the car was prepared and cleansed with Zymol HD Cleanse
This is used to clean any residue or oils remaining in the paint and prepare the surface ready for the wax.
I chose Zymol Royale estate glaze to be applied to my car. Not sure how many of you are familiar with this wax, but it retails at a staggering £7,188.00 for 44oz, but Matt tells me it is refilled for life. The wax contains 73% pure Brazilian #1 Carnauba wax by volume, basically 73% of the total product as opposed to 1 or 2% found in many cheaper waxes.
Matt had to apply this by hand and the heat from his hands softens the wax ready for application. He sometimes uses a Microfibre pad, but the wax was straight from the fridge and he felt had application was best here. He also massaged the Royale into the window rubber to seal and protect the rubber – he tells me they will bead just like the paint!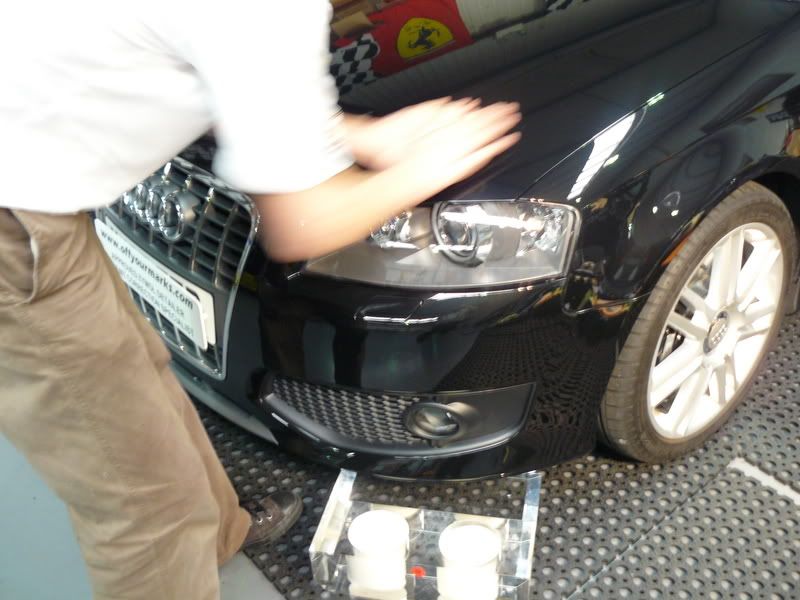 Once applied ( in straight lines, same direction as the water would run off) in small sections the panels were buffed to a deep shine. As the wax sweats and necessitates a second buff, Matt got on with the rest of the prep. However it was looking good at this stage.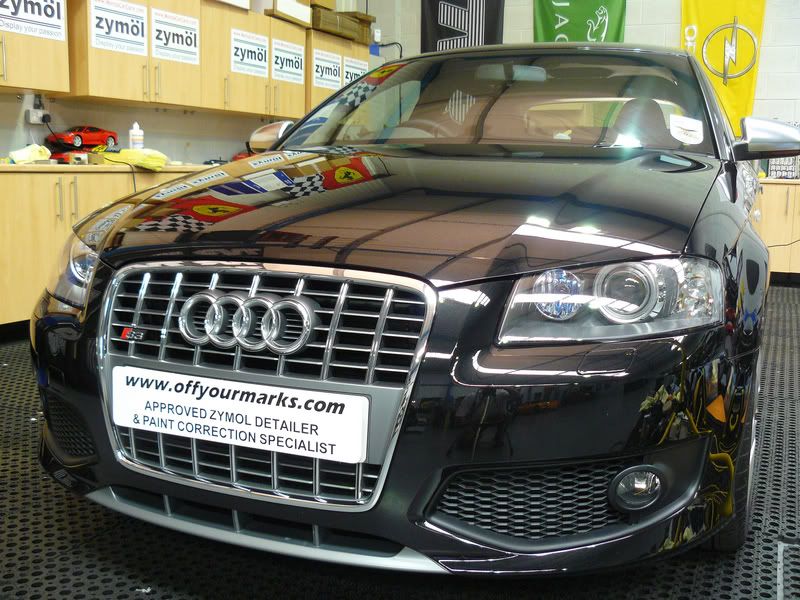 So the HD cleanse was out again and used on the wheels before sealing with Zymol wheel seal.
Following the seal matt dressed the wheels with Zymol Royale too.
Tyres received a coat of the Zymol 'tyre' giving a non glossy 'just out of the mould' look.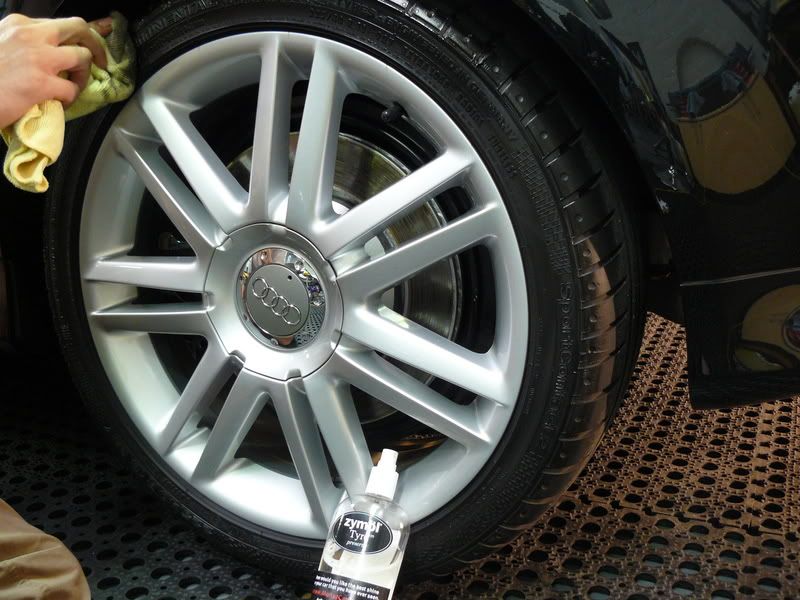 The exhaust tips polished with Zymol 'metal'.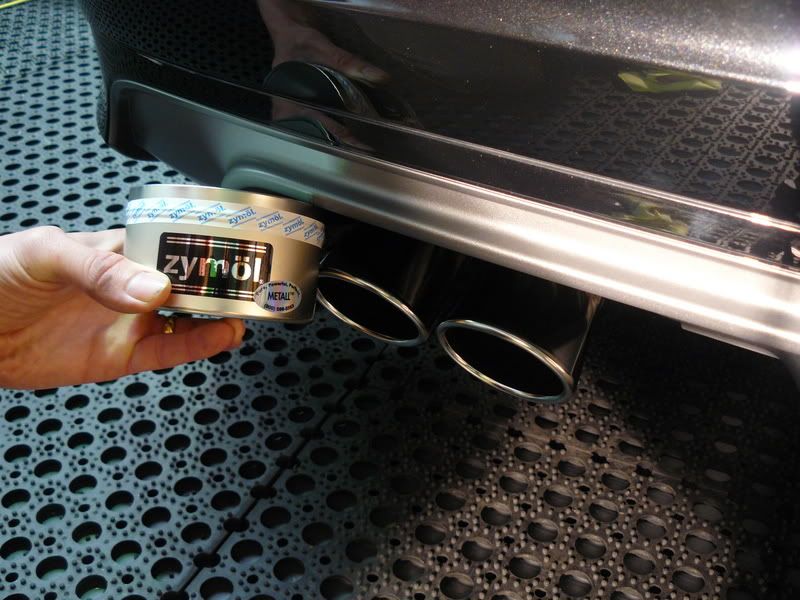 and glass with Zymol 'glass'
Following all this the car was stood to sweat outside in the sun and help the wax to cure. It was then brought back inside and dusted over with a Zymol Feather duster.
All seals were re-brushed too.
Now it was time for the final buff, Matt used a spurts of field glaze and a microfibre towel to buff to the final shine.
Here are some finished shots inside the Detailing Centre…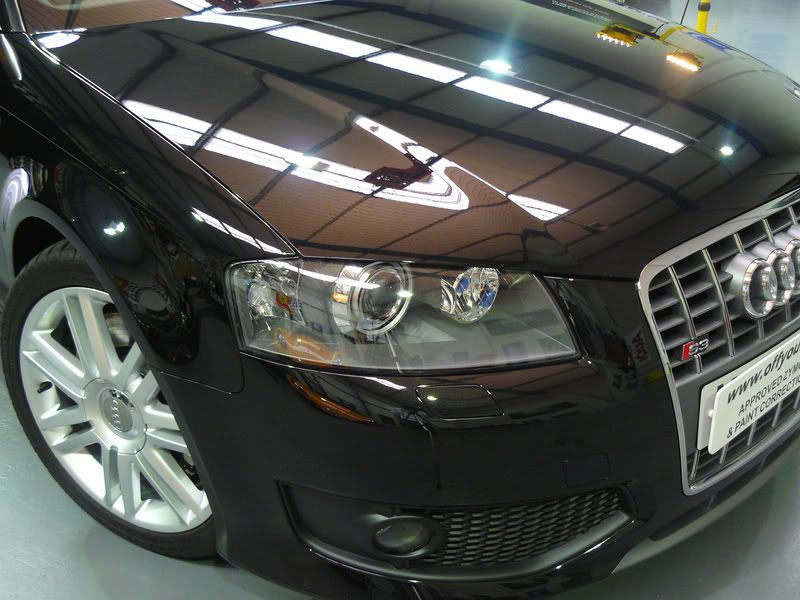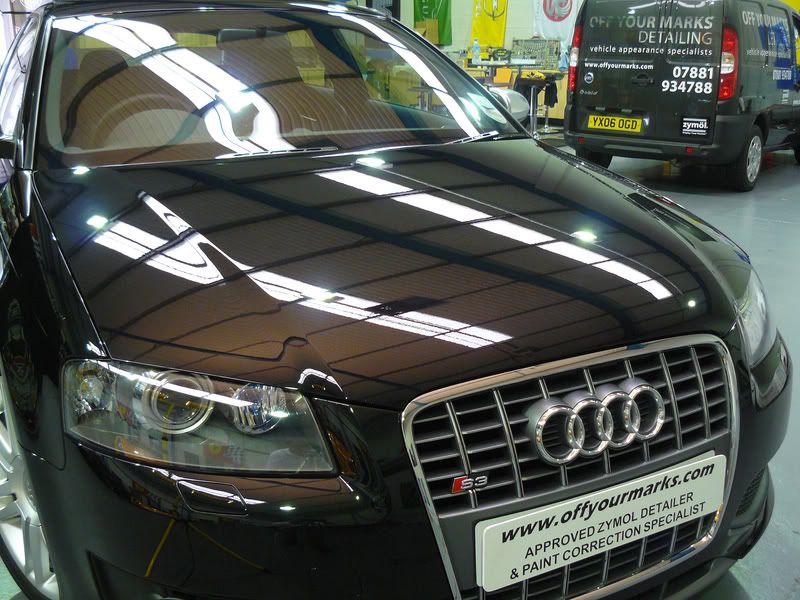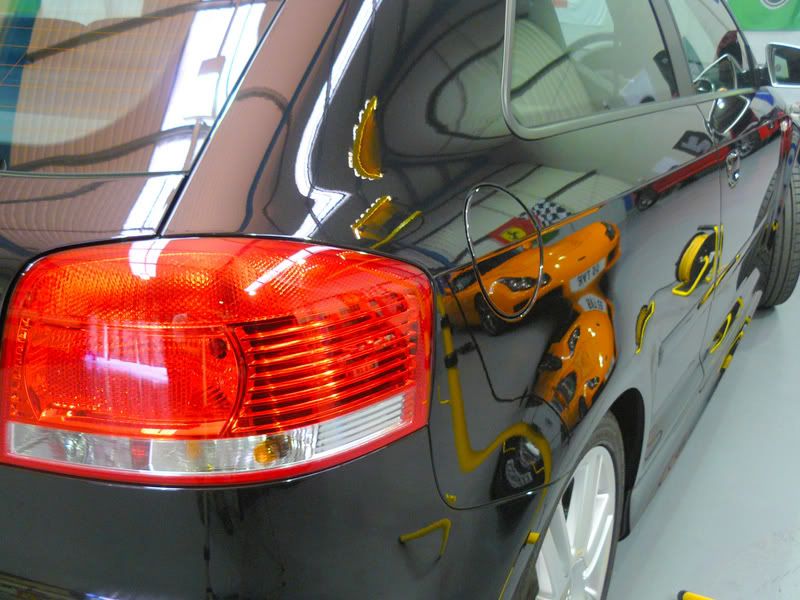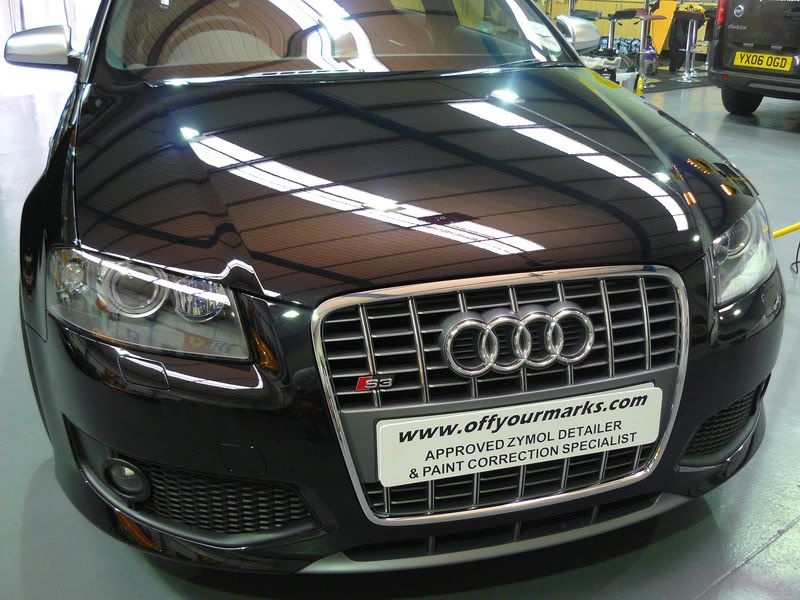 My car did look stunning – shame it rained the next day. But what it did allow me to see was how well the car beads!!
Matt was expecting a Brand new Audi R8 in the following day. Again, a brand new car containing swirls direct from the dealer.
I have asked Matt about the possibility of an "open day" at his detailing centre, and he is quite willing to show people around. So if you fancy an Audi-Sport meet there, please let me know.
I would just like to thank Matt for his hard work, 16 hours worth of work in fact!
I would also like to thank Clark again for recommending Off Your Marks and Matt, and allowing me to post up details of Matts work.
Cheers
AL