Done last week, written up by Clark...
---
This detail was done over Wednesday and Thursday last week: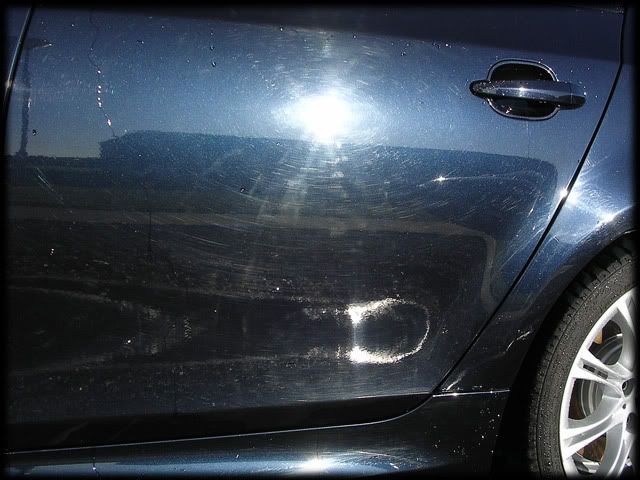 The car belongs to a customer who has signed up for a maintainance plan and it is basically a workhorse/daily run around while he waits for his new RS4 to arrive, but untill then he decided to give us the BMW to spruce up a bit
It looks pretty good in the above pic but the paint was pretty flat and i could see loads of defects in it even from a distance.
The wheels were pretty dirty, the insides were particulary bad, looking like they'd never been cleaned at all...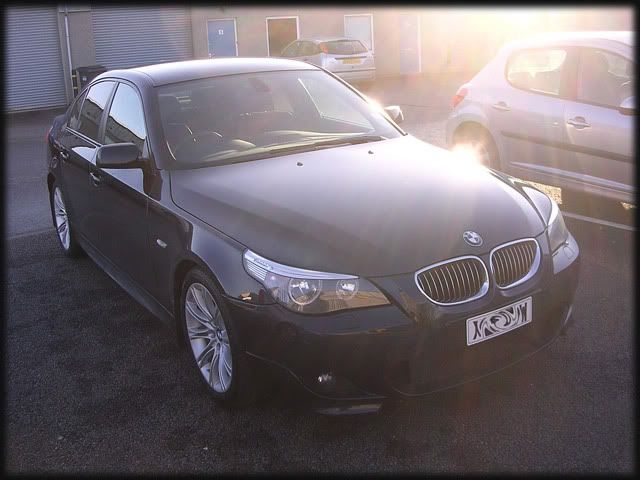 Wash Process
:
As usual, the car was first foamed with a De-greaser after i'd treated the arches etc to APC/De-greaser. This was left to dwell for 10 mins and then rinsed off with high pressure before being washed with the 2 bucket method. The wheels were then cleaned with a
Neat
accidic wheel cleaner but the inner rims on the front wheels were too far gone to save, which was ****** annoying. The rears came up about 80% but thats still not enough to make me happy, it spoils a car when the wheels arent clean all the way to the back but there was nothing more i could do in this case! The car was then sprayed with Tar and Glue remover on the lower panels and then clayed afterwards with an aggressive clay, this removed alot of bonded contaminants and took nearly an hour in itself. The car was then given a final rinse and then dried off with the leaf blower.
Polish
:
Once inside and taped up, this was what i could see under the halogens - they looked worse in person though: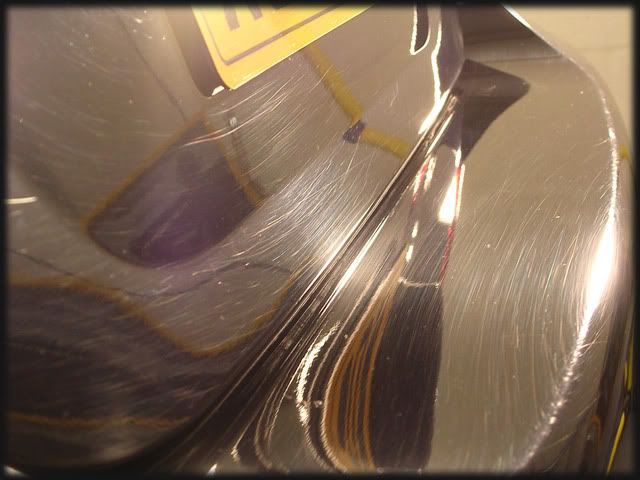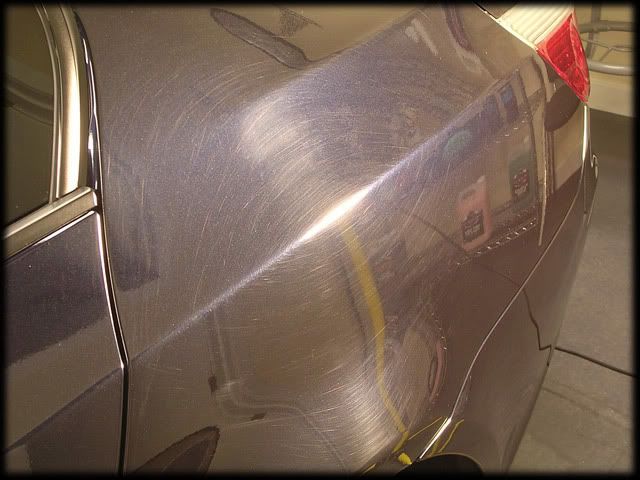 It appeared someone had given the car a rather "sprited" polish with a Rotary previously...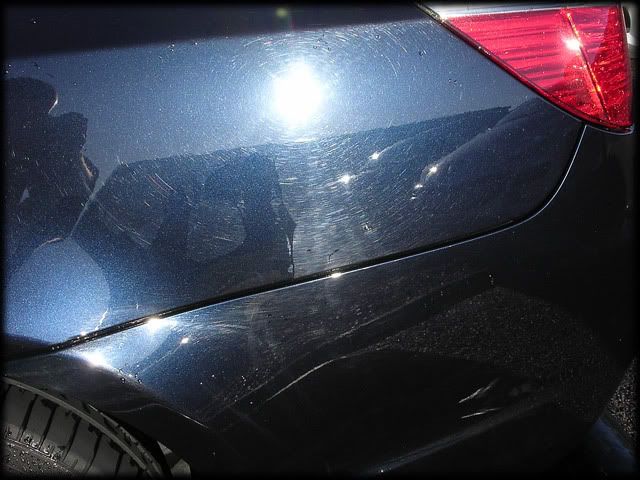 Pretty horrendous!
PTG readings showed a healthy level of paint all round, except for the bumpers which were pretty thin (even thinner on the areas that had been burned through!
) so i went straight for the Cerami-clear compound and a polishing pad @1800rpm's. This worked pretty well even on the badly swirled paint (it was very very hard too, harder than normal i would say) but i was aware of how big this car was and how fast time was ticking by so i had to come up with something that would result in complete correction (or as good as possible) in one hit. I decided to add a couple of drops of the most aggressive compound we stock with the cerami-clear compound @2000rpms (1500rm's on the spoiler as this is plastic), this was pretty awesome and gave very good correction in one go and finished down nice and sharp - although i wouldnt recommend polishing at 2000rpm's if you're still new to Rotary Polishing :icon_thumright:
Here's a couple of Pics during the polishing stage: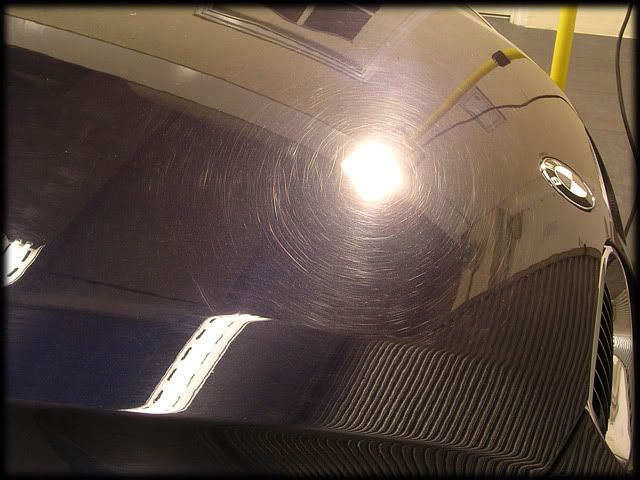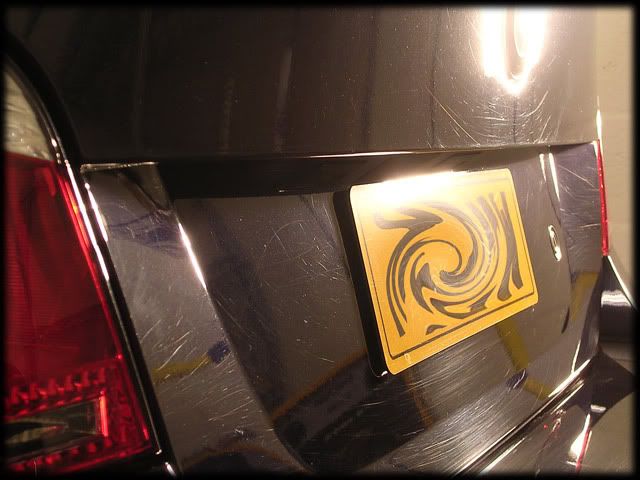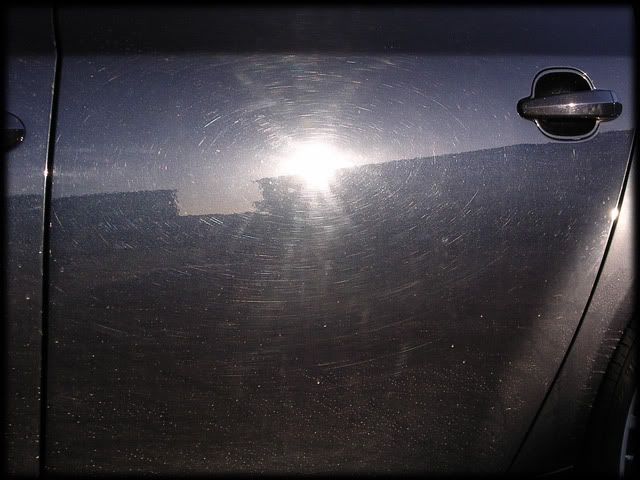 Once done, the car was dusted down with a Zymöl duster and the paint was then HD Cleansed. This was followed with Vintage that was applied to the whole car by applicator pad and left to cure while i did the interior, dressed the tyres/arches, sealed the wheels, dressed the exterior trim etc.
It was then buffed off and then given a final wipe down as usual. Not so many after pics this time as i had to be away from work sharpish, but here's a few anyway
This was another tough detail as there's alot of paint to polish on a 5 Series, i'll be quite glad when the maintainance plan switches over to the customers RS4
:lol:
Thanks for looking (how old is this getting now?!) :icon_thumright: