I'd have liked to have found the time to have posted this before this weekend seeings as thats when the show is but never mind, better late than never i guess!
Day 1 - 9am
This is Martin's recently acquired Mk4 Anniversary Golf sporting its rather tasty BBS LM's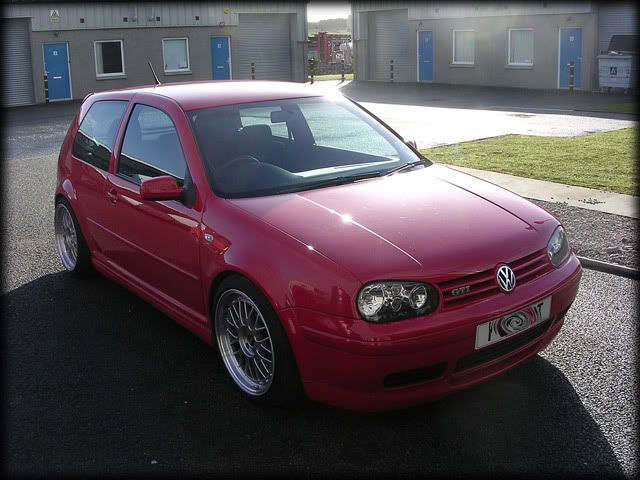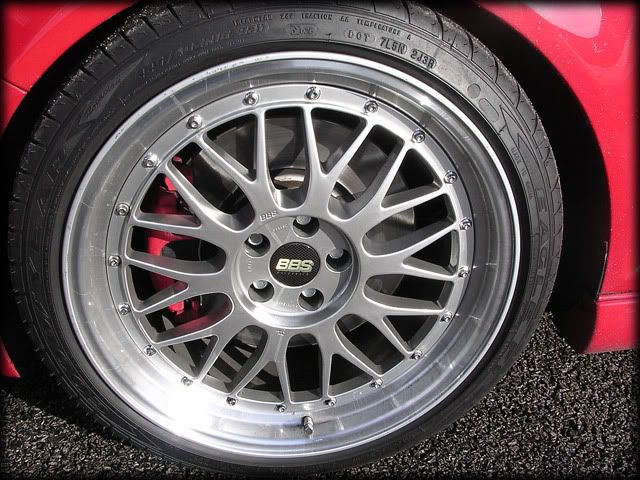 As always, up first was the wash stage and this gave me the chance to play with our latest toy, a switchable foam lance from Karcher which allows you to select either the foam mode or plain water and high pressure at the flick of a switch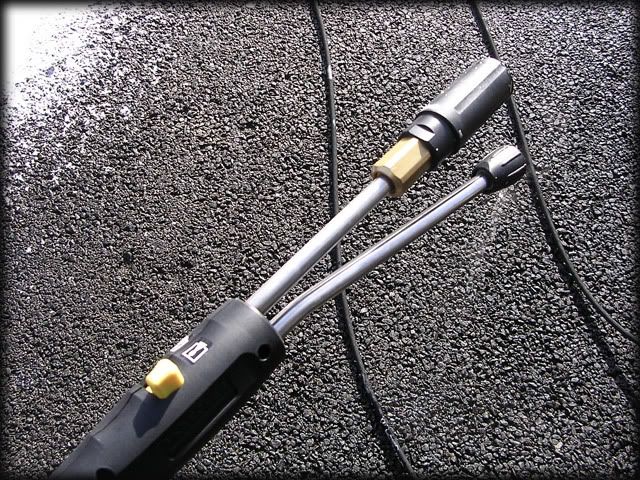 The car was foamed with Hyper Wash and level 4 (out of 6) on the lance at 60 degrees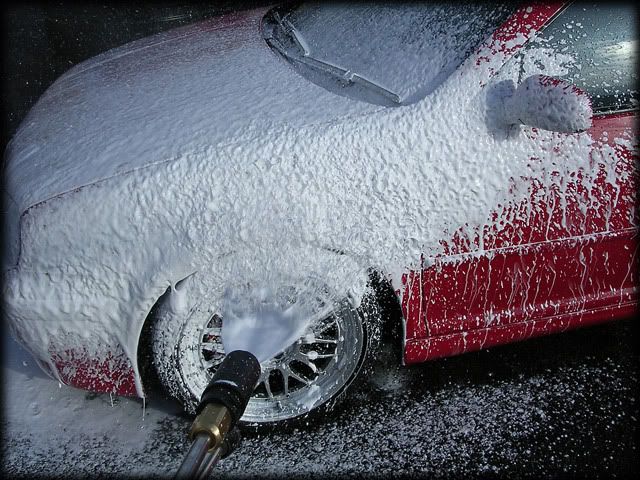 This was left to dwell for 5 or ten minutes...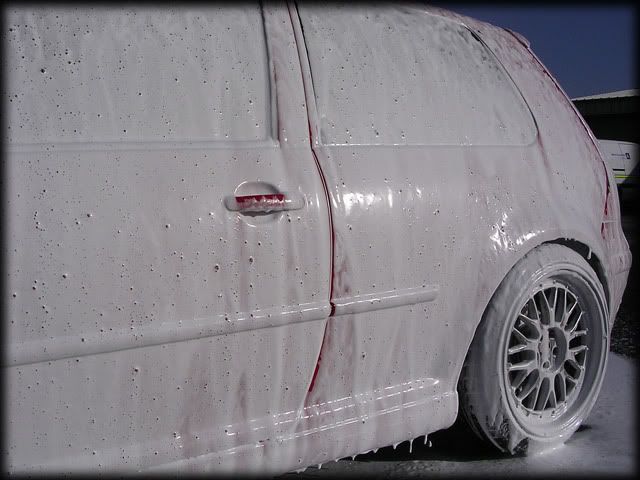 ...then rinsed off at high pressure: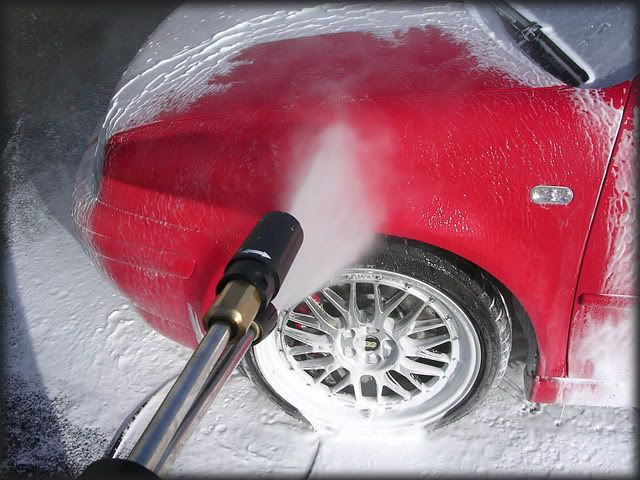 The hot foam seemed to do that bit extra in removing the layer of road film on the paintwork and the car was pretty much dirt free after this stage alone: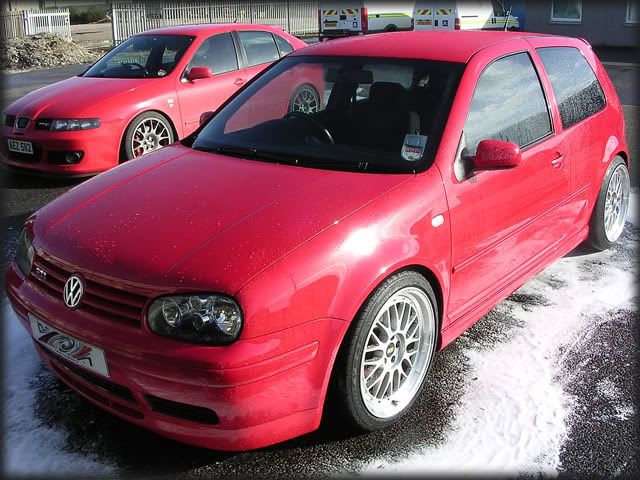 Wheels were next - i used Menzerna 7.5 Tyre and Wheel Gel: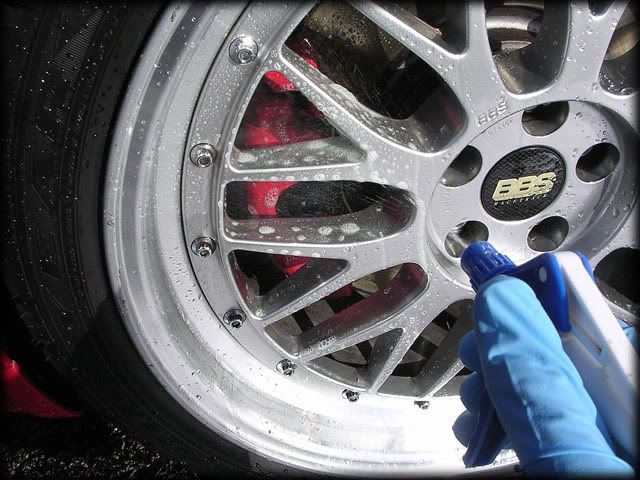 A MF mitt was used for the faces and our new wheel brush was used for the inner rims...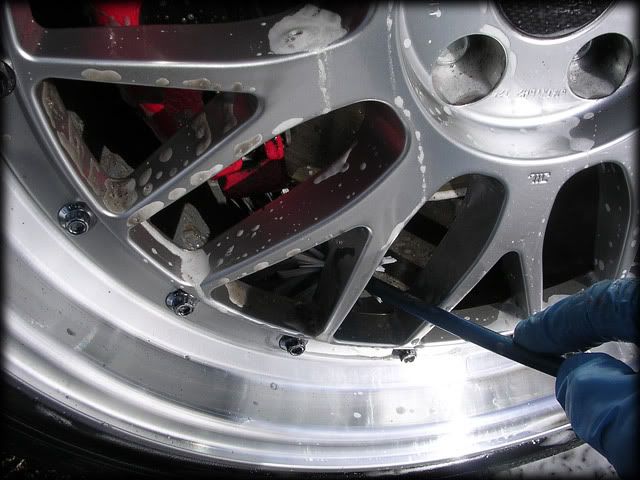 The odd tar spot was removed with Autosmart Tardis and the arches were cleaned with Meguiars Superdegreaser.
The engine bay was then cleaned, although it wasnt overly dirty to begin with in all honesty: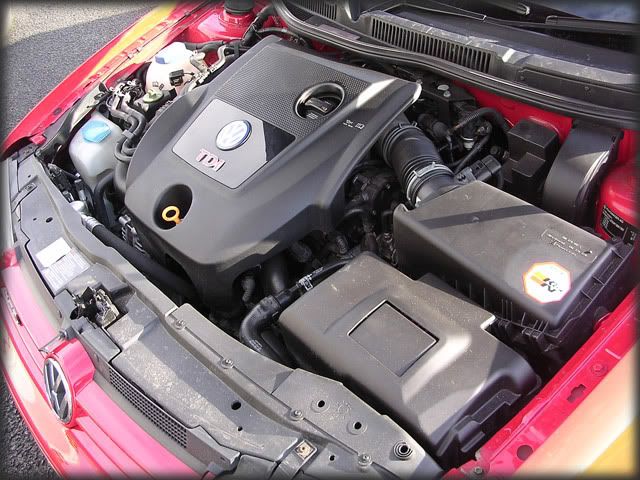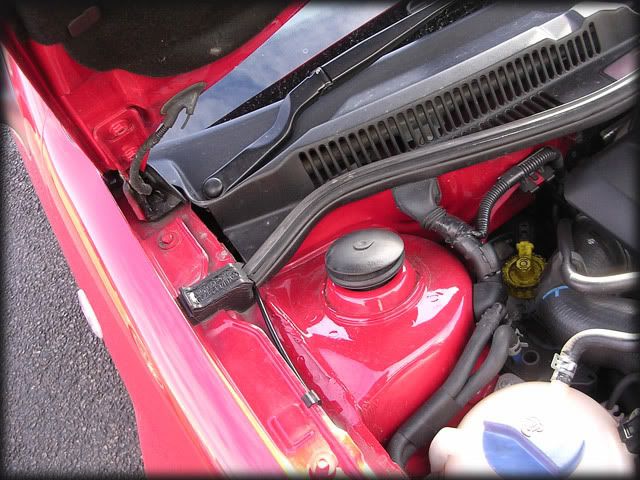 I soaked the engine with Meguiars Super Degreaser and left for a minute...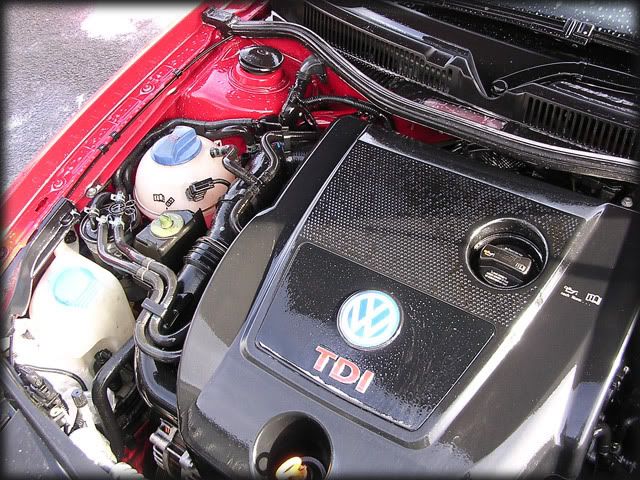 ...before rinsing at medium pressure @ 40 degrees.
Back to the paintwork now and i firstly foamed the whole car again (including shuts) before washing with the 2BM and Meguiars Shampoo Plus...
I then rinsed off at high pressure before removing any tar spots with a MF towel and Autosmart Tardis. There was only the odd spot or two though so nothing too bad: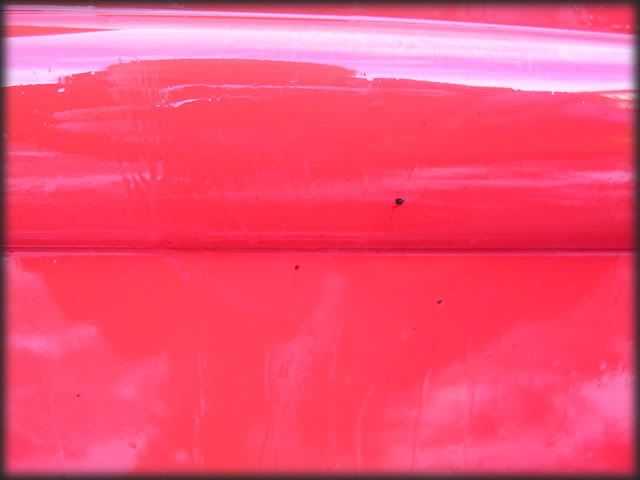 I then put the car inside and clayed with Meguiars Aggressive Detailing Clay before giving it one final rinse off before drying with a waffle weave towel and the leaf blower
Total Wash time: 4 hours.
Polish
:
Defects wise - the car was pretty bad, not so much in terms of swirls but for some pretty hefty random scratches, including some really bad ones across the bonnet.
I did my best to capture them on camera but the pics dont really show the true extent of how bad some of the panels were - my camera kept focusing on the light reflectors on the roof instead of the paint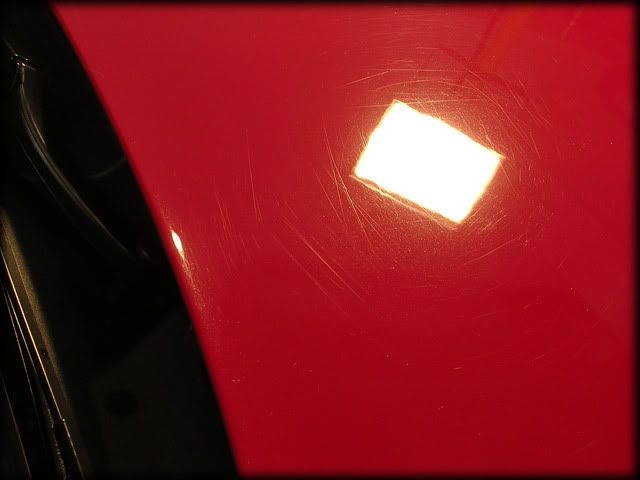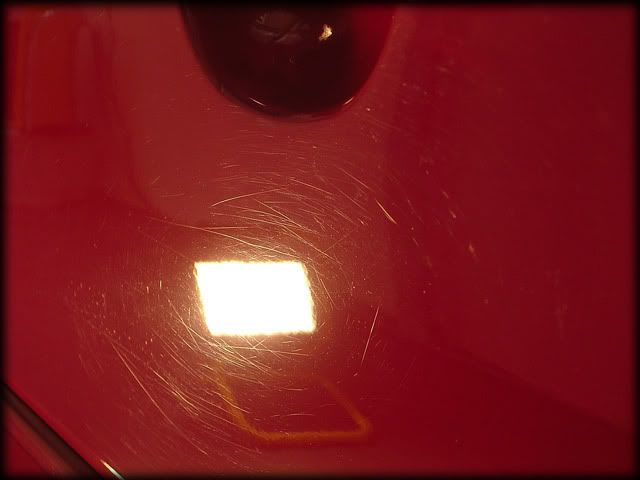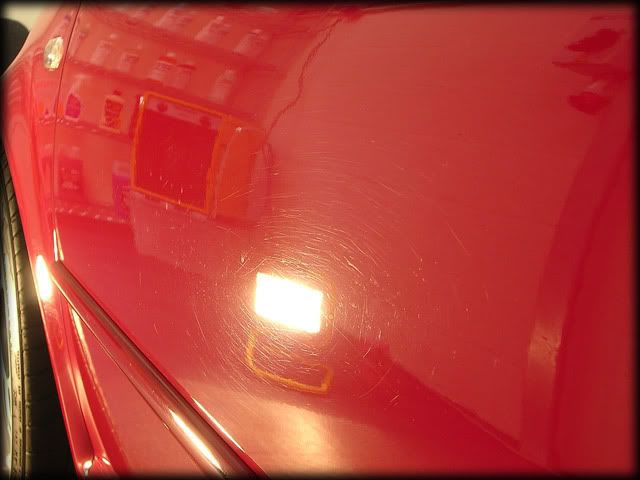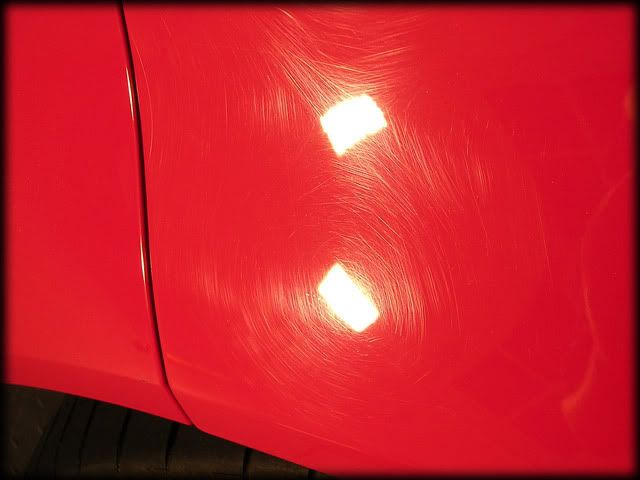 The car was then taped up and side repeaters removed ready for polishing...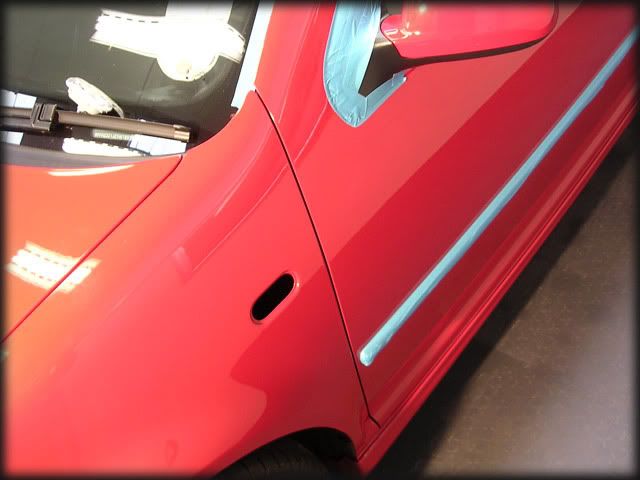 ...and then i took detailed paint readings...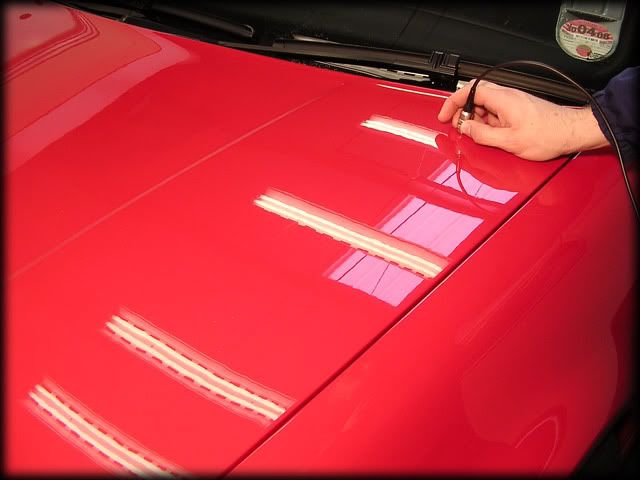 The gauge revealed that the entire car bar the roof and rear end had been painted (to a very high standard i should add), these areas were around the 280 micron mark: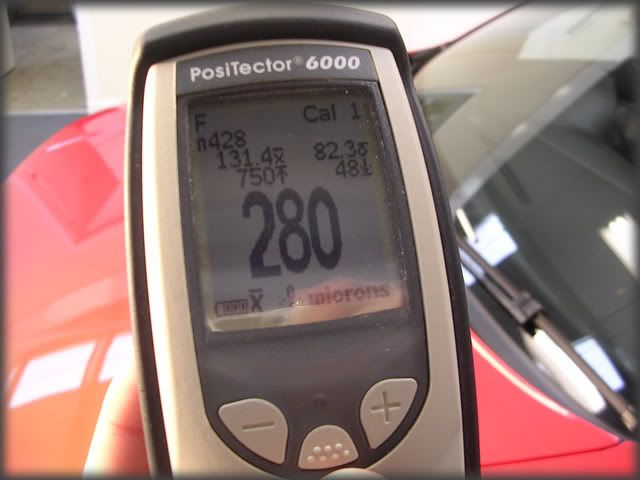 The original areas were a healthy level, no scary low bits anywhere on the car: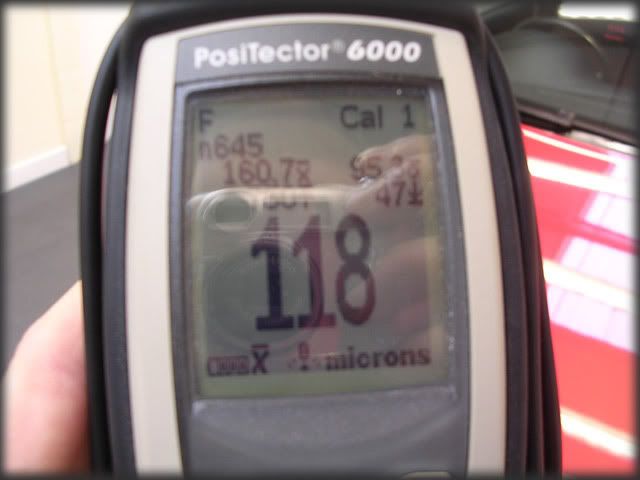 Given the defects and healthy level of paint all round, plus the fact that i wanted as perfect correction as possible i went for an aggressive approach using 3M Fast Cut Plus (with a mix of Ultrafina) and a new Compound Pad Rich had given me to try - this pad is near identical to the 3M one but seems to be slightly more robust, plus its cheaper :thumb:
Each section got at least 2 hits (some got 3) @ 2000rpm's to get a high level of correction, again alot of patience was needed but its always worth it in the end: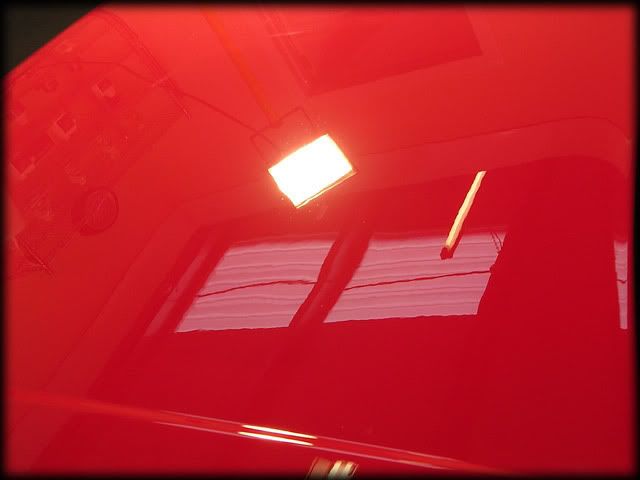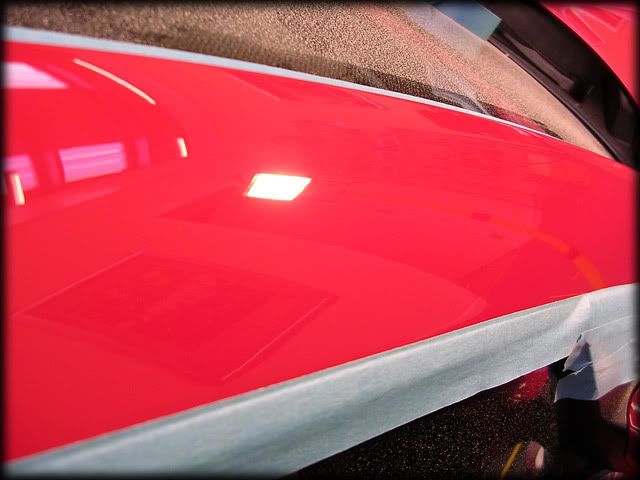 Some areas still showed signs of the deeper scratches but i decided to correct the whole car and then hopefully with any time remaining i could attend to these via wetsanding later on - bare in mind this was me being stupidly fussy and most people would never even notice them
So, i carried on round the car: