Joined

Aug 20, 2014
Messages

487
Reaction score

119
Hello all,
Been meaning to start this thread for a while but just didn't get around to it.
However have been collecting a few photos ready for when I did, so here we are!
Quick intro:
Me and my brother are keen car enthusiasts and have owned a few Audi's in the past.
Have done a few little mods and coding ourselves with help from this forum of course.
Audi A3 8P 2.0 TDi S Line (LED rear lights)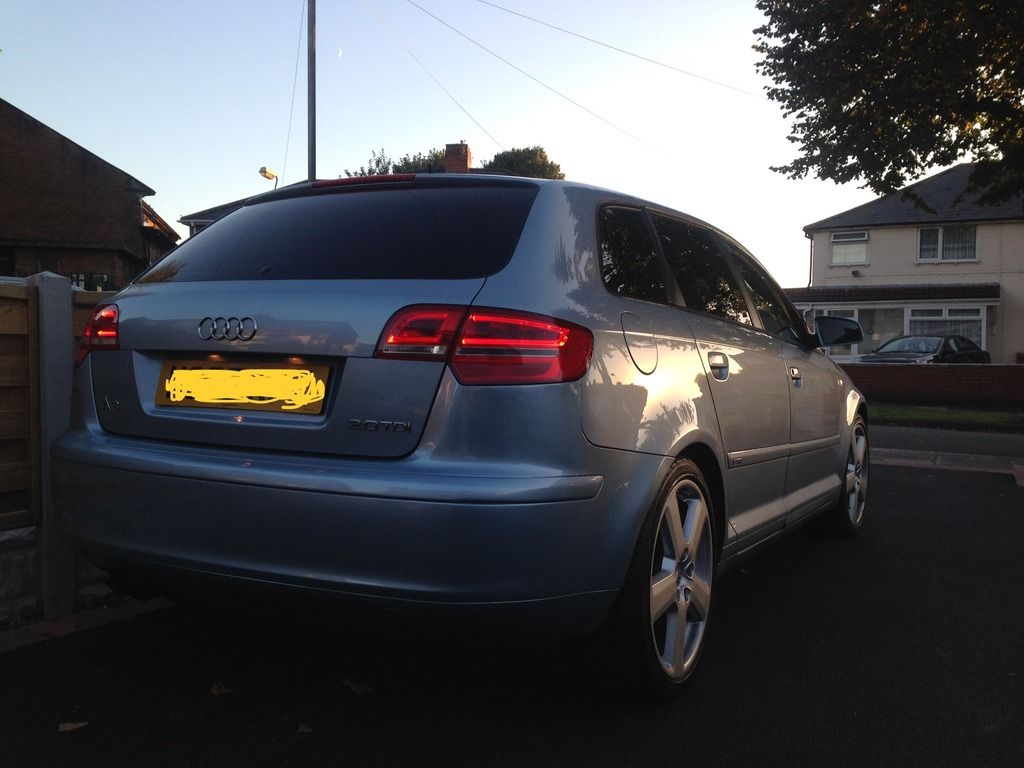 Audi A6 C6 3.0 TDi S Line Quattro (MMI and Satnav updated to latest version, Le Mans Alloy wheels)
Before and After pic: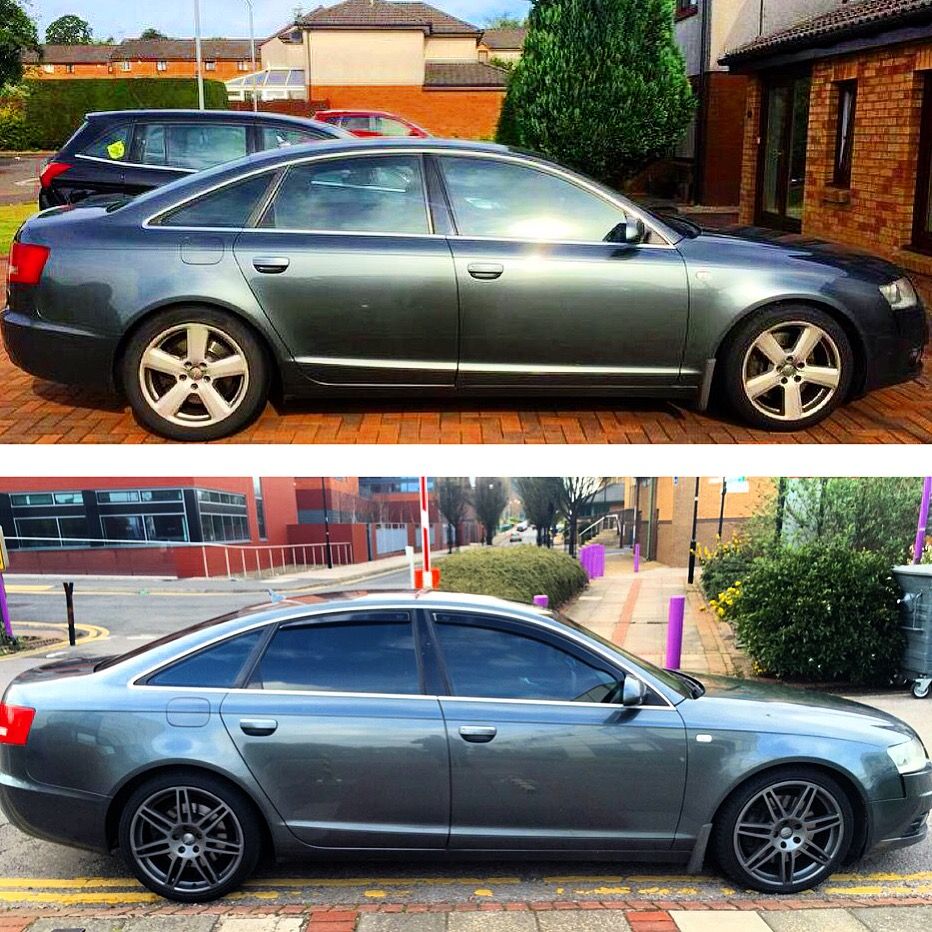 Audi TT 8J 2.0 TFSi (TTS Rear lights, TTS front bumper, mirrors sprayed in Alu)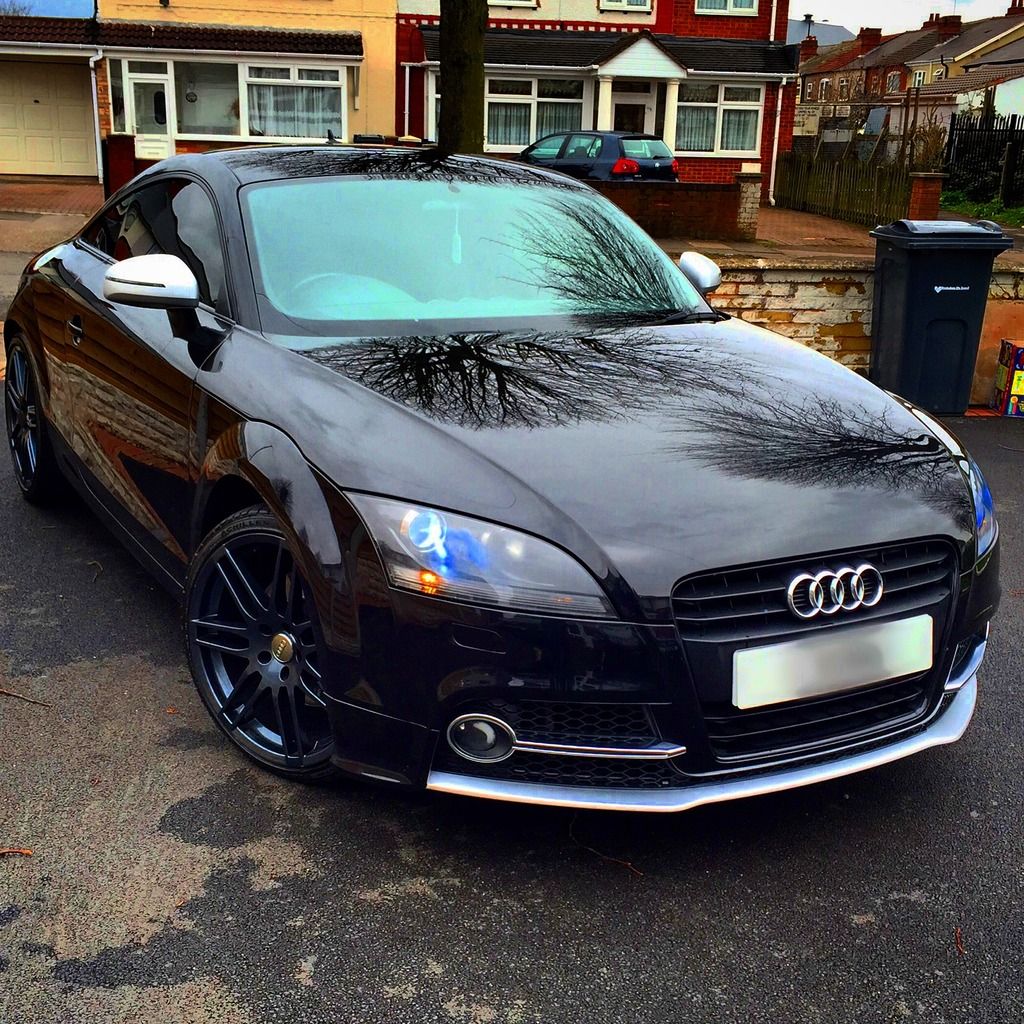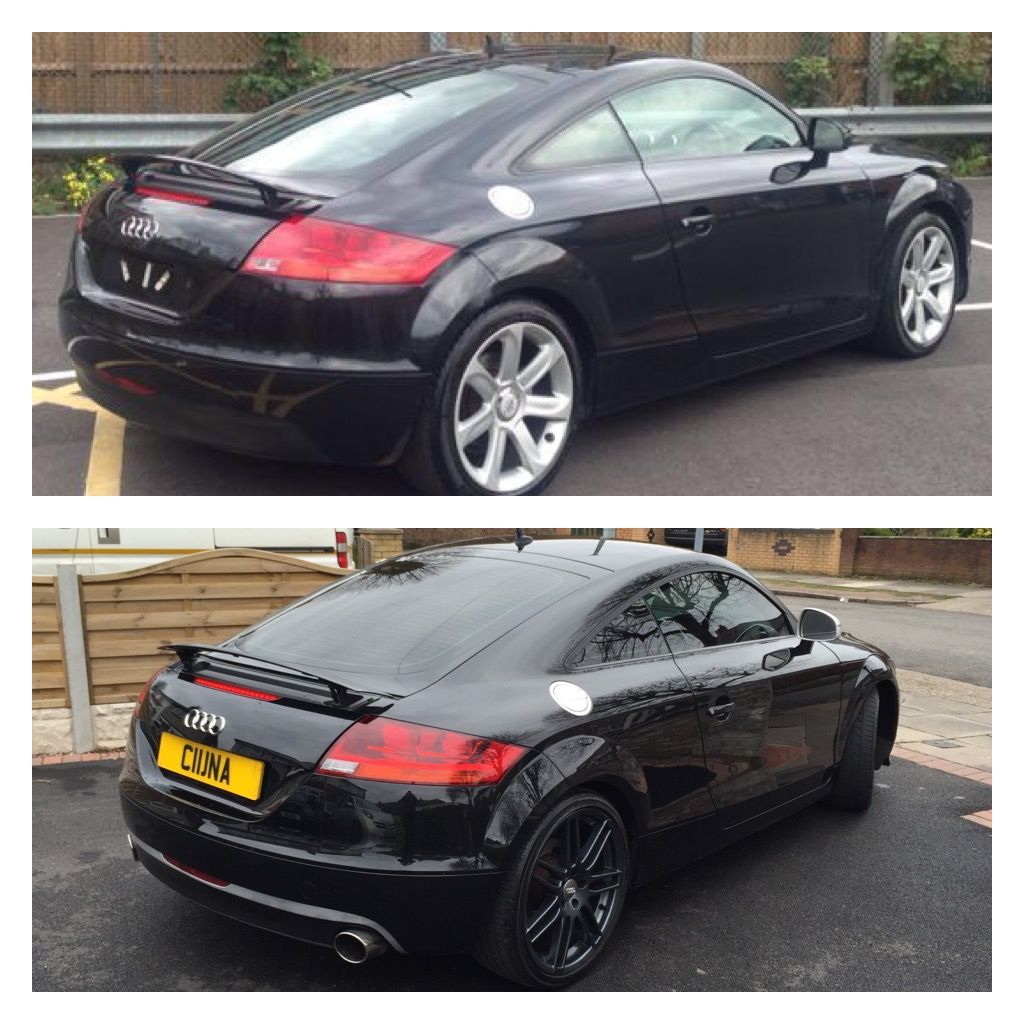 Our biggest conversion to date was on this Seat Leon 2.0 TDi DSG in 2015:
We fitted full facelift front + rear, BTCC bodykit, Cupra R diffuser, supercopa alloy wheels, FR interior, full black roof lining, facelift climate control, Xtrons android touchscreen stereo with reverse camera, wifi, bluetooth. FR paddle shift steering wheel (coded in and working!)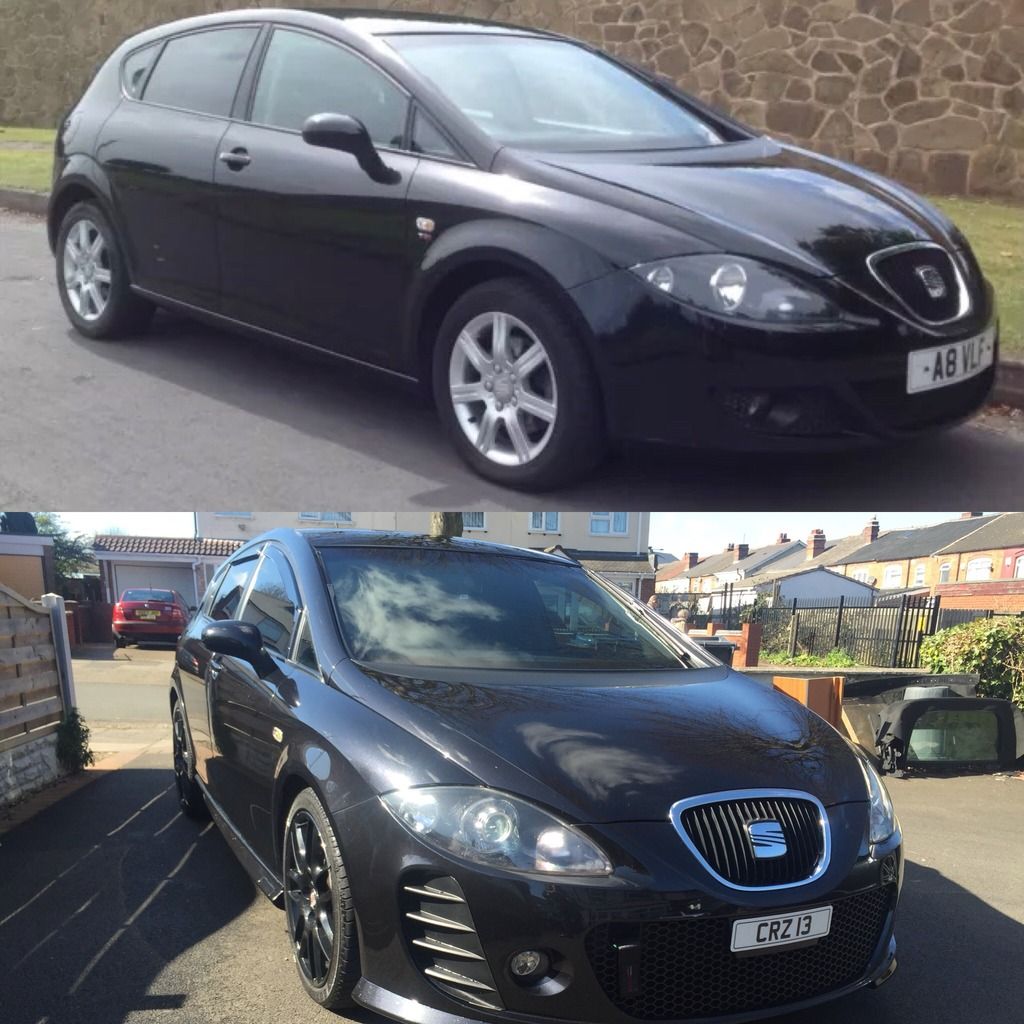 Audi-Sport forum has helped us out many a times and is a great community so thought it's only right we share our experience and give back to the community with any help we can offer!
The Car:
Right, now to get down to it:
So my brother was looking to buy a car towards the end of last year, we was on the look out and I came across this 54reg Audi A3 3.2 V6 DSG Sportback:
92k Miles with Full service history, 2 Prev owners from new, 2 keys, all paperwork ect
Factory options included:
Single Xenon Lights
Cruise Control
Half leather, half alcantra interior
Heated front seats
Popped over to view it, had a test drive, engine and gearbox were spot on, car drove really well, so struck a deal and bought the car at a very decent price!
Gathering parts:

There was no way this car was going to stay standard, even on the drive up to viewing it we was considering our options and what kind of conversion we could do.
Now we always wanted a Pan Roof, however finding an A3 with a pan roof is very rare, never mind a 3.2 V6 DSG Sportback with a pan roof!
So just typed in audi a3 pan roof into ebay and found a seller in Bradford who had one for sale!
Taking inspiration from Amar's thread a few years ago, we decided if it has been done before, then it definitely is possible!
This was the first item we bought for this car lol, don't have the original picture of the exact one we bought but found a very similar looking image to what we got: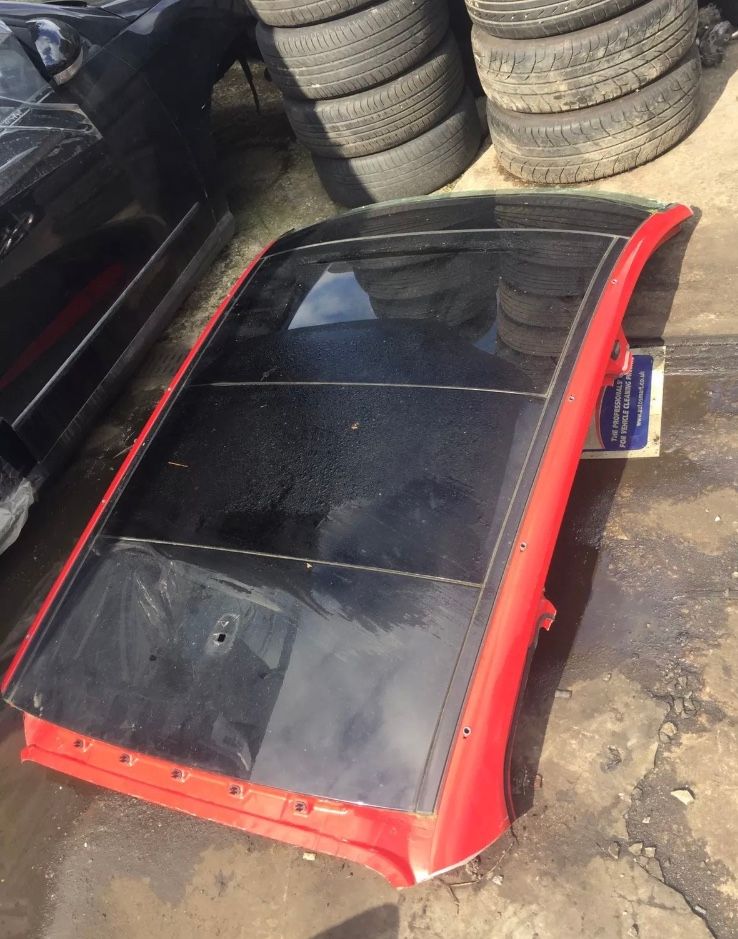 The one we bought as it was cut straight from the pillars of the car, came complete with the sun roof motor + plugs, complete black roof lining with sun visors, grab handles, interior lights, A + C pillar trims. The only missing pieces were the B pillar seat belt trims.
Grabbed hold of a friend who has a van, took a trip up north and picked up the pan roof and trims!
The roof and trims went straight into the garage and the search begin for other parts!
The questions was then either to go for S3 or RS3 look?
As we were going to be doing the facelift conversion, which required the wings to be changed anyway, we considered going for the RS3 look.
There were plenty of bodykits on ebay however the only thing putting us off was that the kits were fibre glass!
Having previous fitted a fibre glass kit to our Seat Leon years ago we had said then that we would never fit a full fibre glass body kit again as there is too much modifying, and the line up is never 100%
Also looked at a few completed replica for sale on the net and when zooming in on the front bumper especially, you could see the lines weren't equal.
While still contemplating, a bumper came up for sale on ebay, it was advertised as an Audi A3 facelift complete front bumper with grille, however I noticed straight away that it was in actual fact an S3 bumper with an RS honeycomb grill!
Complete with washer caps, foglights + grills, so snapped that up straight away at a very decent price!
Also managed to find 2 bi-xenon headlights, one was in the full working order with ballast and bulb, the other was without ballast, bulb and also had a small crack along the bottom, however still functional and thought we'd take our chances and snapped them up too: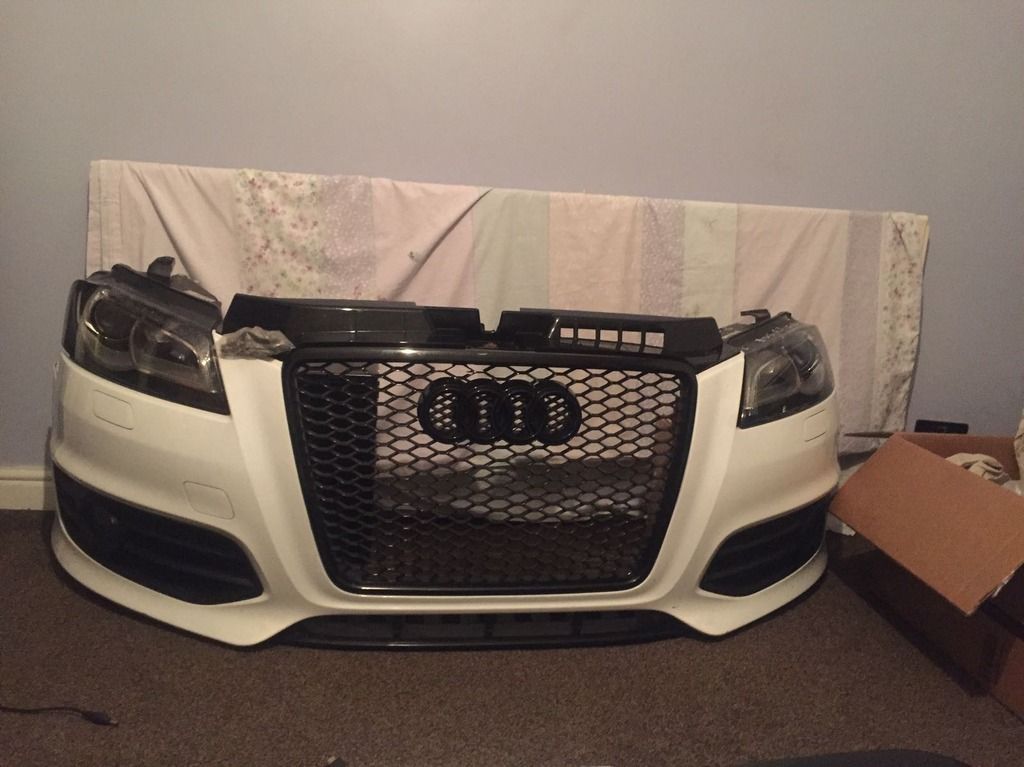 Still needed a facelift bonnet, pair of wings and slam panel to complete the front end.
Instead of finding them separately, decided to order them all from Eurocarparts Platinum+ range.
As my friend owns a garage, they get pretty good discount, also ordered wing fixings kit from TPS as the brand new wings come without them.
Front end stripped: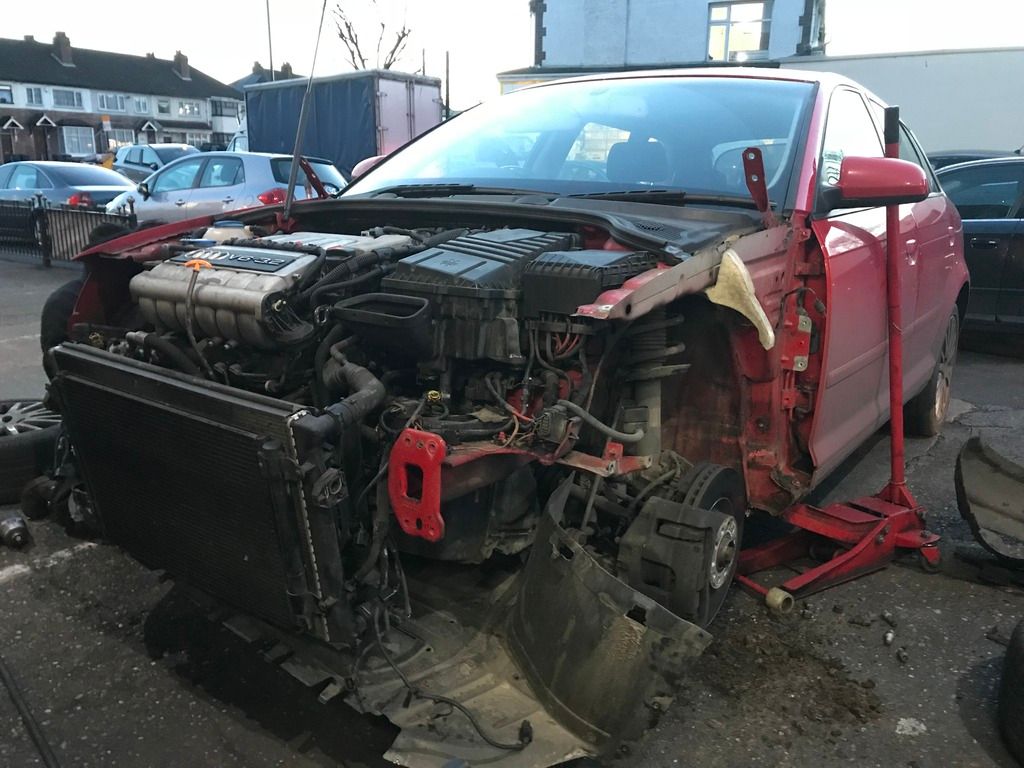 Test fit of the front end: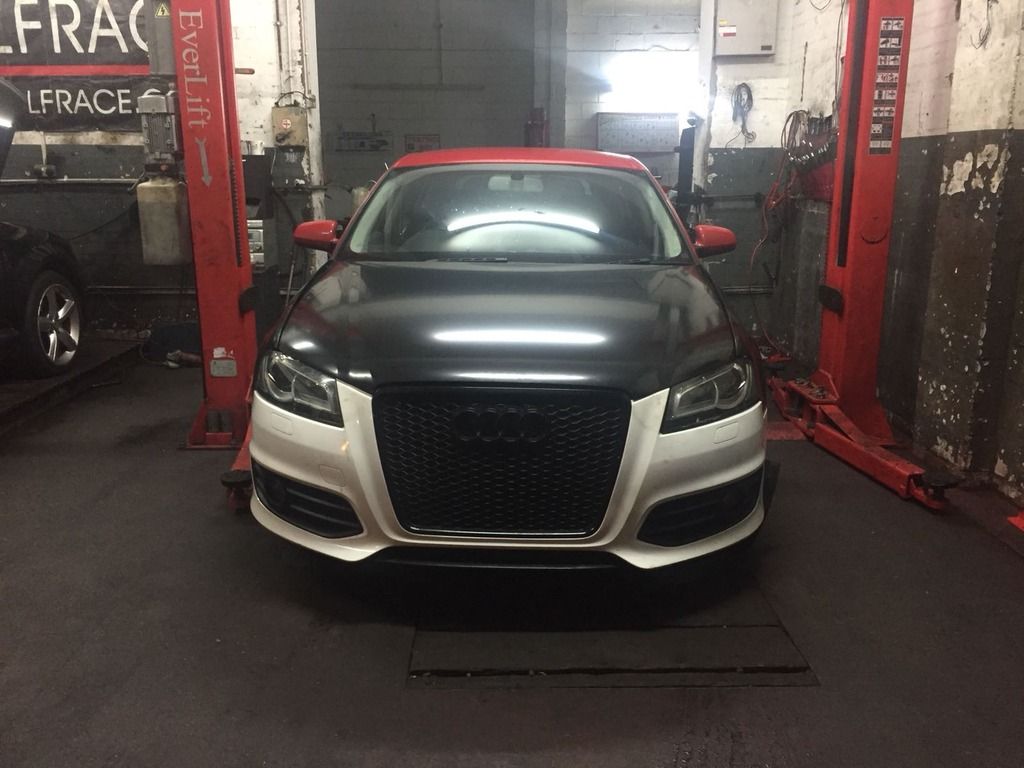 Bonnet didn't sit quite right on original hinges, so ordered a pair of facelift bonnet hinges.
Kufatec bi-xenon headlight adapters had also arrived so got them connected up and the extra 4 wires ran under the dash to wire to the J519 module.
However realised that the module needed to be replaced with a newer version to support the facelift bi-xenon lights, so couldn't get the lights up and running
Now to do something with the back end, didn't want to stick on a spoiler as it doesn't look OEM, so got looking for a S line tailgate with spoiler.
After weeks and weeks of looking couldn't find the right tailgate at the right price, and then I finally found the right tailgate, with original spoiler and as a bonus it was in red, enquired and it was sold
Then this came along: Audi S3 facelift tailgate with LED inner lights!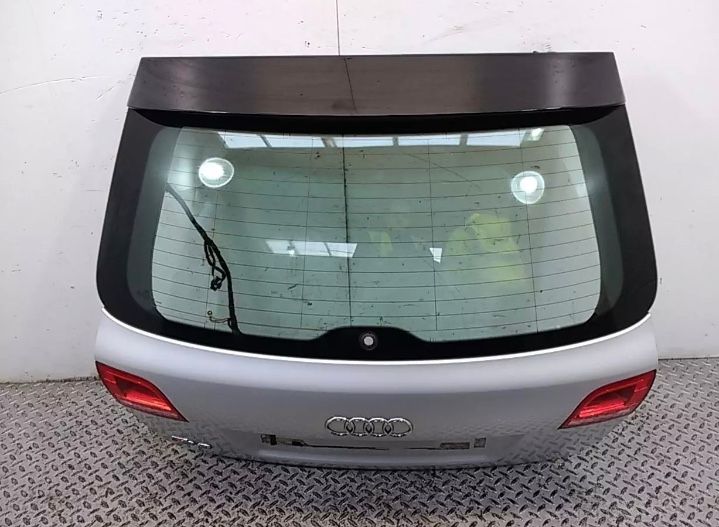 Snapped it up, also at a very decent price!
Couldn't find a pair of genuine S3 side skirts or rear sportback diffuser, or when we did find them, sellers wanted a lot of money for them which we weren't willing to pay lol.
So ended up giving in and ordering a pair of copy side skirts and S3 rear diffsuer from ebay.
Pre-facelift A3's came with a 2 piece rear bumper, the bottom half comes away from the top so a S3 diffuser can be fitted straight on.
The car was now ready for the work to be started.
Enquired around various places as wanted a proper job done on the pan roof, however a lot of bodyworkers didn't want to make the effort and just wanted to cut it from the pillars which we were against to avoid affecting the main structure of the car.
A friend of ours had recently taken over a bodyshop and claimed he had a very good body worker.
After having a chat with him, he seemed quite skilled in his profession and reassured us that the job was not a problem for him and it would be done properly!
Removed all seats apart from drivers, rear carpert ect and off the car went to the bodyshop!
Continued in next post...
Last edited: