Hi all, I picked up my new A3 on Friday, I thought I'd have to wait a couple more weeks for delivery yet so nice surprise when the dealer called. Any way after spending a few days with it I thought I'd join the forum and post my impressions of it, hope its useful to anyone thinking of ordering.
Here goes ...
New car :
A3 2.0 TDI S Line - Daytona Grey
with Alcantara, B&O, Comfort Pack, Interior Light Pack, Standard Sport Suspension, Electric lumbar adjust.
Previous car:
2.0 Golf GT TDI 140 Manual (Mark VI)
Look of the car
First off, I'm really happy with the way the car looks from all angles, Daytona Grey really goes well with chrome and other styling features on the car. I'm waiting for better weather to take some photos, but I can tell you the S Line spec makes it feel that little bit special compared to the SE/Sport versions which look good
Steering
Not much feel from the tyres compared to the Golf but the steering is acurate and there no torque steer. It is also light even on the dynamic setting. Mine makes the occasional strange noise when parking, I suspect there is some air in the system, will have to get the dealer to check it over.
Suspension / Ride Comfort
I was a bit unsure whether to order with the standard sport suspension or take the softer suspension, in the end I decided to stick with the sport setup, I figured it should be similar to my Golf GT which is lowered by the same amount. I was a little worried a few weeks ago having read some reviews that had said it wasn't good, which recommended sticking with the softer option.
Having spent a few days driving on A roads, B roads and Motorways and around town, I can say honestly it is very good all round, I've had an Sline A4 and A3 Quattro in the past, both were tiresome on the same sorts of roads and would jostle you around in the car and dive into dips in the road. This new A3 rides very well, ridges on the road surface that would have annoyed me in the Golf, don't bother me at all in the A3, its only if you hit sunken drains etc that you notice. The springs seem softer than the golf and it stays level most of the time. There seems to be a soft initial bit of travel in the suspension, absorbing the small imperfections.
Traction / ESC
Traction is very good in general, only once has the traction control been triggered, I would say its slightly more agressive than the Golf, i.e doesn't allow any wheel slip once it kicks in, where as the golf would. I guess better for my tyres though. ESC hasn't been triggered yet, the car is so well balanced you'd have to be doing something very wild to set it off.
Handing
Its way better than the Golf, I was not expecting much difference but wow, it stays very flat in corners, feels very well balanced, settles nicely into corners at all speeds without needing you to make noticeable adjustments to steering input. My Golf felt like the front tyres were doing all the hard work in corners and at the limit the back would be trying to come round. Grip levels seem better than the Golf which had the same width tyres. You have to be going very fast to test the limits of this car. The car also stays very flat under breaking. Overall, I really enjoy driving this car.
Brakes
Very powerful, very light pressure on the pedal required ( be careful if your going to take a test drive when you first set off).
The brakes are perhaps a little to light, I have triggered the ABS on a couple of occasions without that much preasure applied. Having said that they are very controllable, its easy to lose speed quickly when you want to and then ease off in order to bring the car to a comfortable halt without any final jolt or diving of the front end of the car.
Gearbox
Very accurate goes into and out of all gears very easily, 6th gear ratio seem taller than the Golf, below 50 mph you spend more time in 5th, but 3rd seems more flexible and when turning into side roads etc you won't need to change down.
Engine / Performance
I was expecting it to be much the same as the golf to be honest, how wrong I was !. It feels much quicker, and in dynamic mode, has a pleasant sporty sound. You need to keep a close eye on the speedo, it is very easy to drive this car faster than allowed, as it feels like you going much slower than you really are. There is more than enough performance to make overtaking easy when needed.
Compared to the Golf the power is delivered more smoothly when setting off there's not so much of a sudden rush as the Turbo kicks in. On start up from cold however I would say it is a bit more clattery than the Golf was but that soon dissappears once warmed up.
There is an efficiency mode available in the driver select programmes, that is a useful aid to reduce fuel consumption and reduce the temptation to use all the performance all of the time.
Fuel Consumption
Average MPG is indicating a little less than I got in the Golf at the moment, but that is probably because I've been going faster (its just too easy). I'm hoping I might see better results next week after I've done a few trips to work. I managed to get 55 - 60 mpg in the Golf on a standard run.
Interior
Looks lovely, the seats in Alcantara I find very comfortable, dash looks great, and the way the cup holders and speakers light up is nice touch, interior lighting levels are all customisable individually via the MMI. Space in the rear is adequate rather than generous.
Rear seat room is less than the Golf had but is adequate, however the boot seems bigger.
In terms of sound insulation etc, there is a hardly any wind noise, road noise is sometimes more than I would like on poor surfaces, this seems more noticeable around 50/60 than at motorway speeds. On the whole however it is very well insulated.
Glove box is a bit small (am I bothered !)
If I'm being picky then closing the doors from the inside of the car requires a hefty pull on the handle and because its towards the front of the door sometimes you can't quite get enough speed up to get the door fully shut on first attempt. Bit surprising seeing how light they made the steering and brakes.
Stereo / MMI
The B&O sound system is very powerful and has great sound quality, my only critism is that it doesn't have full sound equalisation (just sub, bass, treble, surround effect and usual fader controls).
The amplifier I think is located under the front passenger seat and gets quite warm, also means you lose the storage box. One strange thing when I plugged my iPhone in the stereo seemed to get the iPhone to play the music, rather than reading the files from the phone and doing the D/A conversion in the stereo. So I exported everything to an SSD card and now that I'm playing from the SSD it sounds even better. (Maybe the full iPhone integration with album art etc is only possible with the technology package.)
The MMI is very easy to use and there are lots of settings to play with, might be a bit bewildering if you have some of the other optional extras available.
Cruise Control
I think its worth mentioning, I have the standard cruise control (i.e no radar) but it does seem to have been made a bit more intelligent, it indicates what speed you've set in the instrument cluster which is nice, + if re-engaging it will accelerate you slowly and smoothly back up to speed unlike the Golf which felt like you'd just floored the throttle. Also it seems as if it will actually apply the brakes on downhill stretches rather than just relying on engine breaking, this prevents you from gathering too much speed and having to apply the brakes, which would disengage it. It also lets you change gear without disengaging. (at least between 5th and 6th haven't tried other in other gears)
Overall Impression
I am very pleased with the car indeed, its a keeper. The car is v.good in just about every area.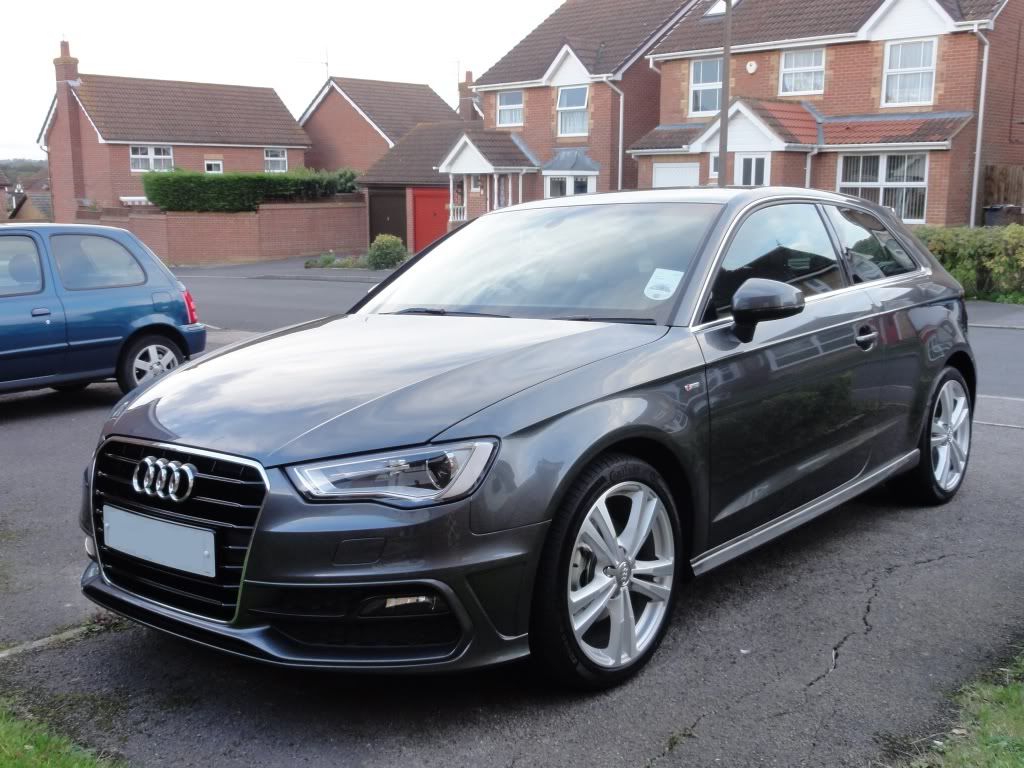 Last edited by a moderator: