Badger 5 Edition...Its all about the flow...
Staff member
Moderator
Joined

Sep 14, 2008
Messages

24,821
Reaction score

6,053
I have been looking at getting one of these for a while and even setup a group buy. I decided to bite the bullet and just get one anyway...
For those of you who are not aware of this rather impressive gadget should head over to
http://www.racediagnostics.com/
and check it out...
Essentially it plugs into the diagnostic port and have a wealth of features (depending on your car, engine code etc) such as the ability to display gauges for the following:
Engine power
Torque
Boost pressure
Cmd pressure
Mass Air Flow
Air Fuel Ratio
Air intake temp
Exhaust temp
Coolant temp
N75 position
Oil temp
...graphs for the following:
Engine power
Torque
Boost pressure
Cmd pressure
Mass Air Flow
Air Fuel Ratio
Air intake temp
Exhaust temp
Coolant temp
N75 position
Missfire
Dyno plot
Timing Correction plot
...and show and clear fault codes etc...
I bought the kit for the facelift S3 as this is what I have.
This is what I got in the box...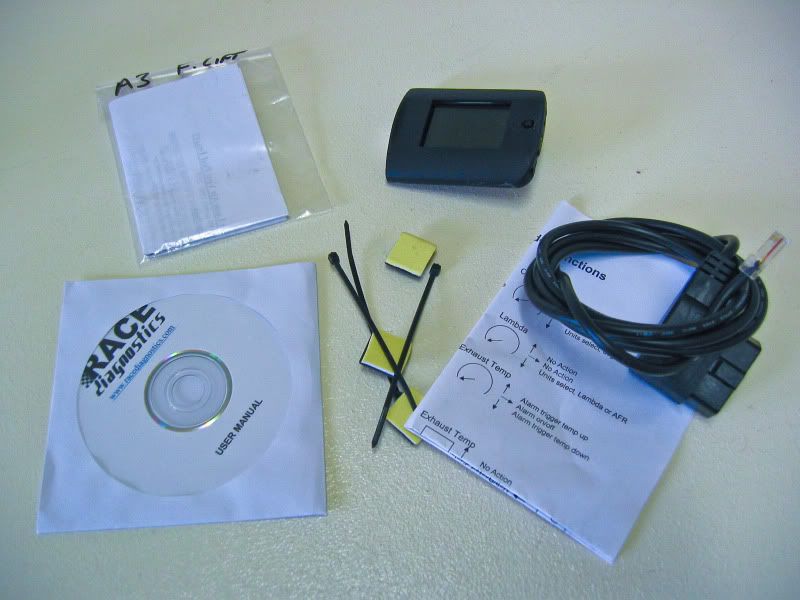 Mine came pre-assembled in the nifty vent mount. The front is shaped to fit the drivers side vent and has the display and joystick on view.
The rear has a Cat5 type connector for the right angles OBD lead that comes with the kit.
I test fitted it for a pic in my vent but this is not where I finally used it as I already have a boost gauge fitted in there.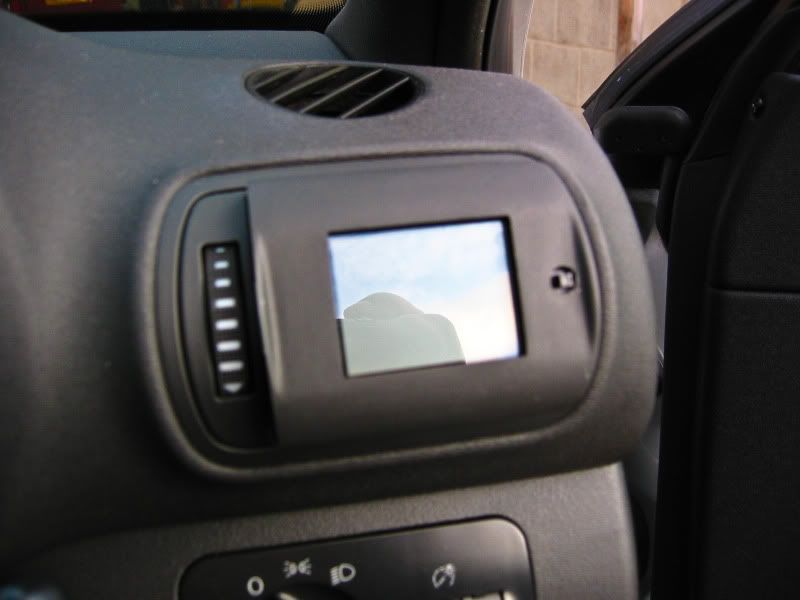 I settled on temporarily fitting the Liquid in the centre vent for now.
Plugging the cable in on my car looks like this
I routed the cable over the steering column and tucked the spare into the little cubby hole just about the plug. As this is only for testing it will do fine... more about my plans on final fitting later...
The Liquid requires a password to be entered whenever you plug it in. This gets remembered while you have the Liquid plugged in but if you unplug it for any reason then next time you plug it in again you will need to re-enter the password.
Once on, the Liquid presents you with a menu system that you navigate using the joystick, it seemed a little temperamental at first but I think it was more me than the system itself as I can now use it with ease.
As my car is going through a mapping stage after my recent BT conversion, I spent a bit of time using gauges that were of use to me for that such as EGT and Lambda. The gauges are very clear and show peak values during the time the gauge is active. In the case of Lambda it shows peak lean and rich values...
EGT gauge has an 'alarm' feature and will flash the screen when a dangerously high value is reached...
The Liquid also displays a real time graph of what it can display as a gauge. This is more useful for diagnostics.
The Liquid will display oil temperature as a gauge but not when using the multi gauge feature due to the way Liquid has to communicate with both the ECU and the dash pod at the same time.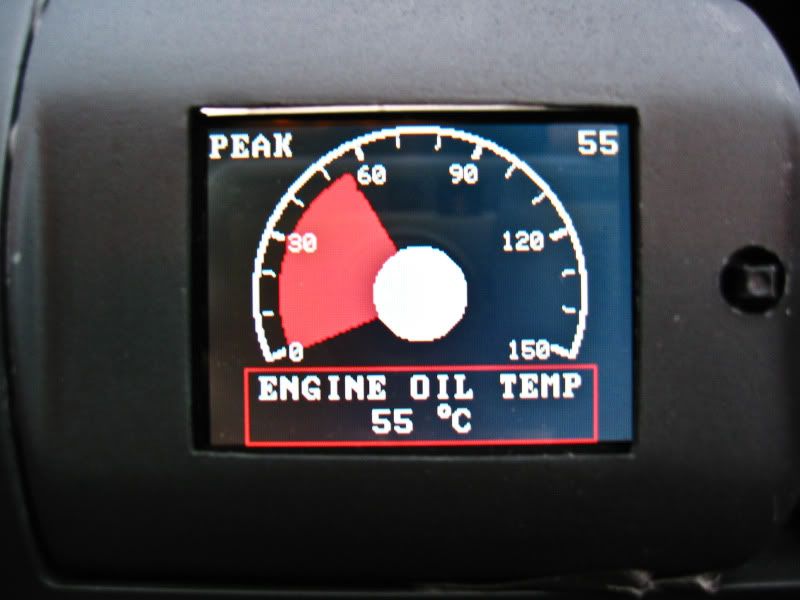 Multi gauge is a nice touch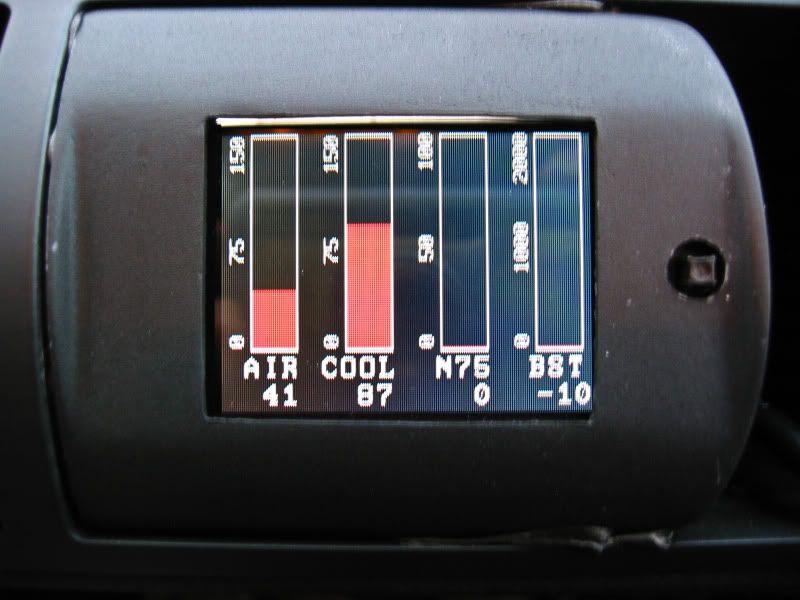 Liquid also has a natty G-Force gauge
There are so many features to the Liquid I haven't had a chance to go through them all as yet but will update this thread once I have had more time and add more pics too.
I have had a few issues with the Liquid though but to be honest this is more to do with the mods I have done to my car than anything else.
My car runs a stage 3 map for the GT30 I run. My boost is around the 1.7bar mark which is already more than the MAP sensor can read. As Liquid essentially sees what the ECU sees, the boost gauge max's out which is why I still run a mechanical gauge. Another problem I have is that I am also maxing the MAF sensor and its readings are inaccurate in so much as the Liquid correctly reads what the ECU tells it but the mapping isn't scaled for this.
I may need to look at running a larger MAF body to bring it all back in to scale but for now it means I can't reliably use some of the 'boys toys' features of the Liquid such as the 'Dyno Run' feature and power and torque gauges. The Liquid does have a setting for adjusting the scale of the MAF sensor internally, this is to cater for people fitting larger MAF sensor bodies.
Once I have this cracked I will post up the results and some pics.
Plans going forward are to find a more permanent place to fit the Liquid and to wire it in so I can still use the OBD port for VAGCOM etc...
Further reading...
Main website:
http://www.racediagnostics.com/
Features:
http://racediagnostics.com/cms/index.php?page=products
Cars supported:
http://racediagnostics.com/cms/index.php?page=cars-supported
Pricing:
http://racediagnostics.com/store/index.php?cPath=1
Documentation:
http://racediagnostics.com/cms/index.php?page=documentation
<tuffty/>