Joined

Aug 2, 2009
Messages

1,283
Reaction score

126
Been on here for a while now and thought inwould start a build thread of my current a3 s line 2.0 tfsi dsg 57, I have done may mods to my car and here is everything I have done to my car from getting it and to today with a facelift.
Here it is when I got the car
1st to go was the horrible wheels so I purchased some genuine a6 le mans 19" wheels
Next to come was the FBMFSW already had MF so wa plug and play
Then a s3 body kit come up too cheap to miss and wanted rid of them sideskirts so got them fitted and after selling my old
S line bumpers I even made money lol.
Then last week I purchased a set of genuine 2010 18" audi s3 black alloys as 19" were a bit of a harsh ride. Then a few days later a full 2010 s3 front end was up for sale and purchased straight away as I was going to buy an 8p3 but cheaper to facelift instead and save alot of money.
I started stripping my front end for the facelift yesterday at 3pm and by 9pm it was all done and finished with everything working, already had factory fit bi-xenons as you can see. so the new headlights worked with a little coding to get the drl LEDs working as I also have K module fitted. All worke with no dis errors so was a bonus. I haven't fitted the door mirrors yet as I can't get hold of any but they also will be plug and play as I have door module J which is facelift one here a few pics take today.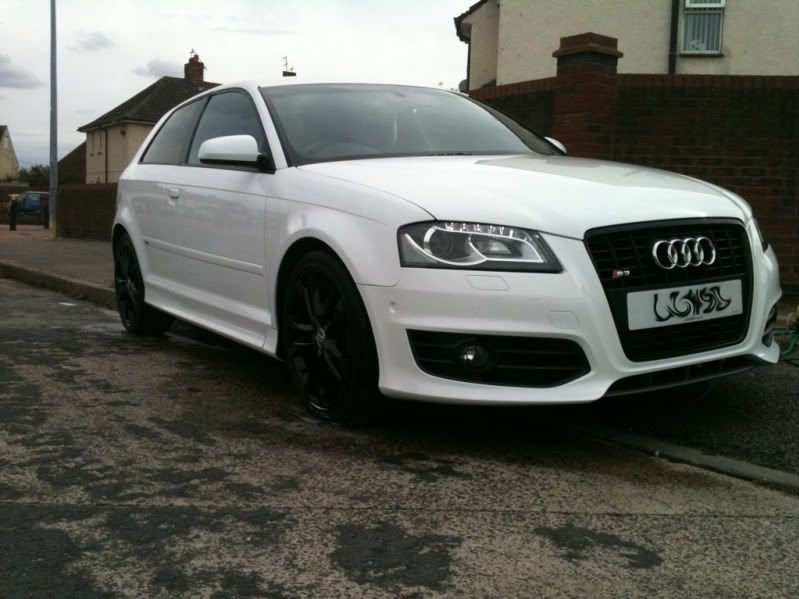 All comments welcome thanks.