Joined

Dec 28, 2014
Messages

1,826
Reaction score

499
Good evening Chaps,
Over the years there seems to be several post entries on here and other AUDI forums about the popular rear lamp upgrade that a lot of us B6 cabriolet owners take to.
I though I would request this information so Audi heads can refer to it, of exactly what they need to do.
As the saying goes, there is more than one way to skin a cat and have read that there are 2 main methods of a full and successful rear lamp upgrade/retrofit;
1. Purchase both rear lamps
. EuroCar Parts currently offers the best price at £92-ish per lamp. Second is TPS who offer them for about £108 all in but you can negotiate with them for about £100 all in.
2a. Purchase adapter looms
to cancel out error displayed on DIS of car. Only place I can find these are from a company called Kufatec.
2b. Make your own looms
to do the same as the above. Need obvious 'sparky' like qualities.
3
.
Installation
. The B7 lamps are a straight swap as the connectors are the same. The below pic includes the error cancelling looms.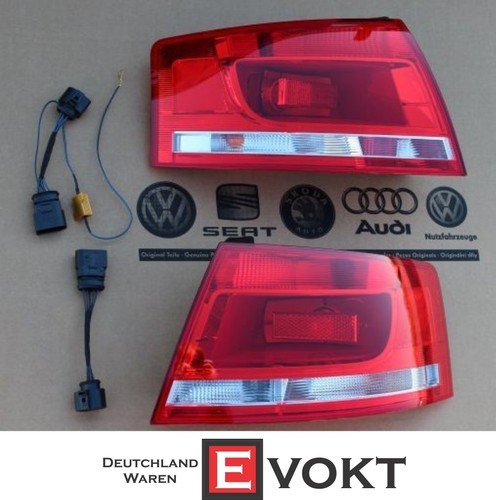 4. Coding
. The lights then need to be coded using VCDS software to change the defaulted top tail light % level from the B6 Cabriolet. Meaning, the B7 Cabriolet rear lamps should only have the square light in the middle lit up when you have the taillights on and
not
anything else. If you do not code them, the top light will be slightly dimmed when you have the tail lights on instead of
just
the square light at the centre of the rear lamp.
QUESTIONS

1. Are these the only options with regards to looms? Can you perhaps change the Pin connector layout on the B7 Cabriolet rear lamps? If so how is it possible?

2. Is there anything else to know about this retrofit? (I have left out the 3rd breaklight strip retrofit on purpose as I believe its fairly straight forward if going that route)

3. Is there a VCDS user in the London area that could code them? The drinks will be on me


Any help on the above would be greatly appreciated and hopefully for other members too!