I want your faulty electronics
Supporter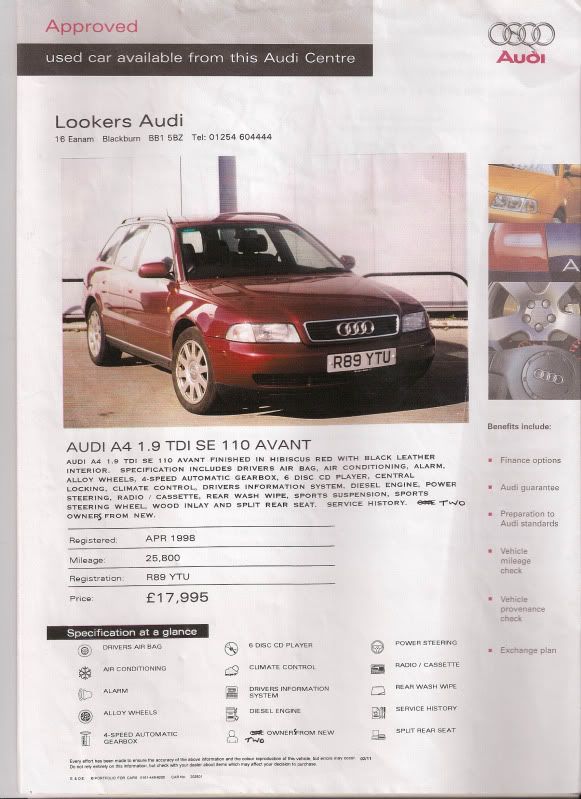 History:=-
Bought the car back in July of 2010 from my Grandad. He bought the car in 1999 from the dealers, every year he would get it MOT, taxed and serviced at the same time by the same garage. First couple of years was with Audi and he then started taking it to a local Indy.
The last 5 years of so, the car has either been parked at his house in the UK or parked at his house in Spain. With lack of use and no need for a car he finally decided to sell it.
Now starts my ownership.
Car:=-
1998 A4 1.9TD
I
110 SE
Option codes:=-
H6U = Tires 205/55 R16 91W
C6R = Alloy wheels 6J x 17
1Q3 = Mass damper for steering wheel, XXHz
0YE = Weight range 5 installation control only, no requirement forecast
0JF = Weight category front axle weight range 6
1BE = Sports suspension/shock absorption
X2B = National sales program Great Britain
B0A = Component parts set without country-specific design requirement
0G2 = Selector lever
8RN = Sound package (brand sound)
8GD = Alternator 90A
J0R = Battery 380 A (80 Ah)
2PV = Leather trimmed sports steering wheel
3S2 = Black roof rails
G0E = 4-speed automatic transmission
M6N = 4-cyl. turbo diesel eng. 1.9 L/81 kW TDIwith MVEG 2 base engine is T1R
Q1D = Sports front seats
1AC = Anti-lock brake system (ABS)
5RV = Right exterior mirror: aspherical
5SJ = Left exterior mirror: convex
T1R = 4-cylinder diesel engine 1.9 L unit 028.R
4UE = Air bag for driver and front seat passenger
8UD = Radio "concert"
1LB = Disc brakes, front
3FA = Without roof insert (standard roof)
Faults:=-
Paint work is a massive one. Needs a machine polish and allot of little scratches needs removing.
Leaking Oil feed pipe.
FIXED
Turbo to exhaust gasket blowing.
FIXED
Front suspension upper front, upper rear arms fell off the bushes and was rubbing on the top bracket
.
FIXED
Passenger side seat back wont stay on
.
FIXED
Boot trim snapped and not keeping load cover on.
FIXED
Load cover needs replacing.
Stereo/CD changer, It wont all ways play music from the changer.
FIXED
Rear bumper is cracked and needs replacing.
Missing rear bumper brackets.
FIXED
Missing from bumper grills.
FIXED
Rear bumper spoiler got a chunk taken out due to Towbar
.
FIXED
Cup holder wont stay down (Little but annoying).
FIXED
DIS missing lines, unreadable and general crap
.
FIXED
Door lower strips rusting and about to fall off.
Passenger door rub strip bit missing.
FIXED
Auxiliary belt snapped when driving.
FIXED
Drivers and passenger doors dropped.
FIXED
Steering wheel badge damaged and paint missing.
Drivers door appears to be moving going over speed bumps.
Modifications:=-

Electric rear windows.
De-bage.
Removed the Towbar.
EGR removal.
VCDS coding.

Facelift scuttle panel tray.

Facelift wiper arms.
LED 3rd break light.
Cruise control
Parking ticket holder.
Rear window trim.
Linked stereo to DIS

Facelift Dash Conversion

Interior LED upgrade.
Parking Ticket Holder.

Wind & Rain Deflectors

Chrome Striker Plates.

Passat Sun Glasses Holder.

Facelift wipers and scuttle plate cover.

Rear Electric windows
New control arms, springs and shocks with a little bit of a drop.
Alloy Wheels.
Shark Fin Aerial.
EGR Blanking & Engine Covers.

Electric Rear Blind.

Silver indicators bulbs & Clear side repeaters.
W8 Interior Light With Mood Lighting.
Electric Folding Mirrors.

Facelift Air vents.
Facelift front lights.
240V Socket.

Debadge
Wood Removal
Bonnet Bra (SOLD)
Raised Boot Floor
Porsche Engine caps
More images.
LED reversing lights
Future ideas:=-
Facelift rear lights. Maybe.
Auto Open/Close boot lid. Big one but I really like the idea.
Facelift Clocks.
Last edited by a moderator: