Hi guys,
I'm a new poster on this particular forum, I previously had a 1.8T 8L and after selling it recently, I made plans for what I needed (read 'wanted') in my next car.
I had already decided that I would purchase an A3 2.0 TFSI S-Line so the search was on. Having done plenty of research on this forum, I decided that if possible, I would purchase an 8P with heated seats as minimum (cold leather seats in winter suck...) and a double din stereo so a future RNS-E install would be easier. After searching, I recently purchased a 56' Plate 8P in Avus Silver with 51K miles, it had heated seats, Bose sound, iPod dock and the interior light pack.
Within the first week of ownership, I managed to get hold of a 2010 RNS-E unit from a forum member here and the search was on for someone to fit it. By this time, I had also decided that I missed the bluetooth and cruise control functionality from my last car (it's amazing how you end up taking these little gadgets for granted).
I contacted Ash (itwasntme187) about getting the work carried out and he duly obliged. Ash popped over on saturday to my home with lots of gadgets in tow, work started promptly and within minutes the wheel was replaced for a MFSW along with the steering control unit and airbag loom for the MFSW and Cruise Control was fitted:
Before: (note Ash's white trainers - I had read about his unhealthy love of white footwear LOL)
During: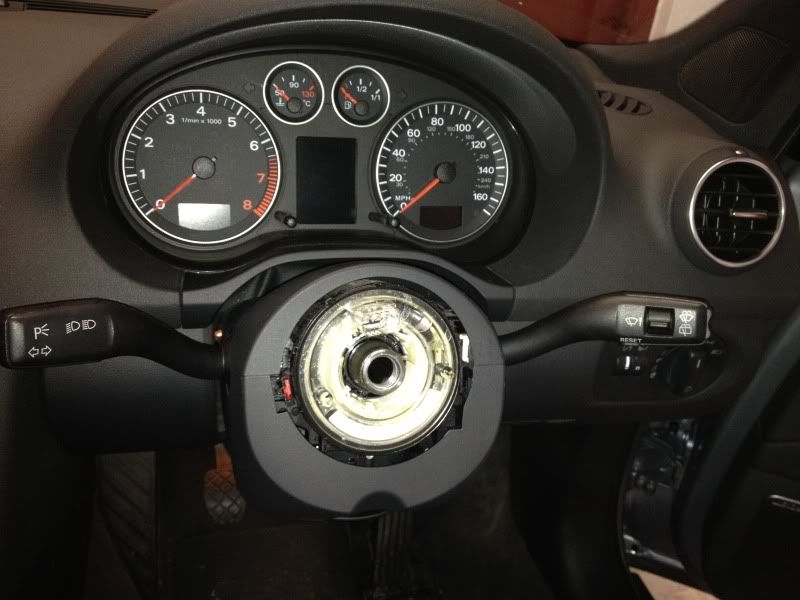 Steering module replaced for the correct type:
MFSW Installed and working: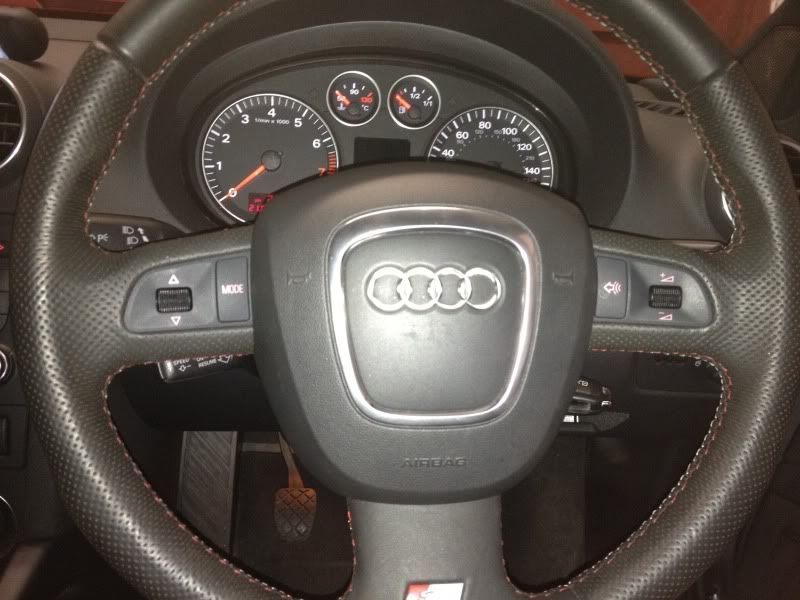 With 'Part 1' completed, Ash then started to install the RNS-E unit and code it, that job was completed within minutes...
Next up, Ash started on the Bluetooth Unit. This was duly installed, coded and working. (In between the time Ash started, I had loads of questions - Ash had all the answers and we spent a while just chatting for what seemed like a short period of time, in actual fact, we must spent a lot longer than we realised, Ash carried on and completed, coded, tested and double checked everything was done to his satisfaction).
This is the finished article:
(see 'proper' footwear as worn by me)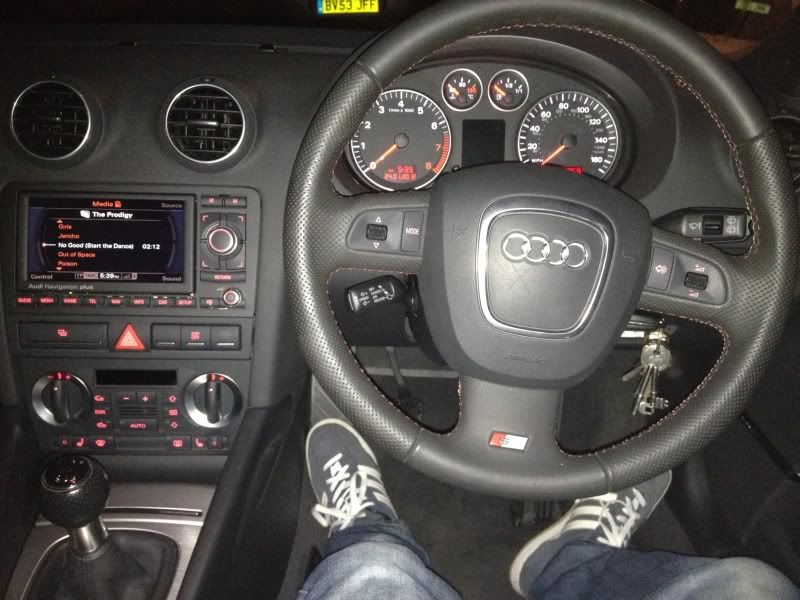 Unbelievably, we managed to spend most of the day Saturday with Ash mostly chatting..., we then decided that Ash hadn't done enough for the day and asked him to fit some MY09 lights to my brothers 8P SB, again, he was happy to help and that job was also done without any fuss.
I have to say, despite Ash's dodgy choice of footwear, Ash is one of the nicest guys I have had the pleasure to deal with. I normally let people get on with their job but with Ash, the banter was non-stop. I'm sure Ash could have finished the job in a quarter of the time had we not talked throughout the install.
Credit where credit's due, I know there's many members on here who are also capable of doing an install like this, from my personal experience of having Ash do work on my car, I would recommend him to anybody else considering having a similar install carried out:thumbsup: